I will not speak to you! Foreign Minister tells Joy FM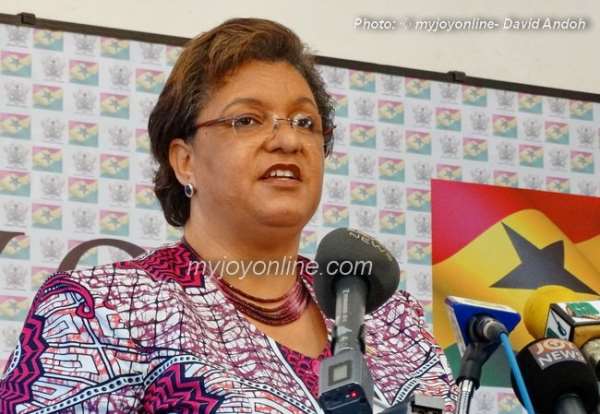 The Minister for Foreign Affairs, Hanna Tetteh, Friday morning stated in clear terms that she will not speak to Joy FM on the ongoing xenophobic attacks in South Africa.
She said she would rather speak to Radio Gold, and that if Joy FM wished, it should listen to that station for government's position on the attacks.
There were reports Thursday that one Ghanaian had been killed in the senseless attacks in South Africa.
As part of efforts to verify the story and to find out what government is doing to protect Ghanaians in that country, Joy FM's assisting news editor Fred Smith called up Ms. Tetteh as Foreign Minister to speak to the issue.
But her response was curt; 'I will not speak to you. I will be speaking to Radio Gold, if you want listen and take the sound from them.'
This is not the first time the Foreign Minister is refusing to speak to JOY FM on matters of public interest.
As Trade Minister in the late President John Mills' government, Ms. Tetteh repeatedly ignored attempts by journalists from the station to obtain information from her.
On one occasion, she sacked a Multi TV crew from a press conference, saying the station was not invited.
It is unclear why the minister is refusing to speak to Joy FM.
HISTORY
Ms Tetteh's action may be traced to a 2008 disagreement with the Producer of a live political talk show.
As Communications Director of the opposition NDC's campaign in the 2008 elections, Ms. Tetteh, believing that an NDC representative on the show was not arguing her party's position forcefully, stormed the station and demanded to be allowed on air to contribute to the live discussion.
Joy News Editor Araba Koomson, who was producing the show, prevented her from joining the show. Unhappy with the turn of events, Ms. Tetteh, praised those days for her calm, erudite explanation of the NDC's policies, left the station.
The NDC won the election and she was appointed Trade Minister by President Mills. She consistently declined interviews requested by Joy FM reporters.
In 2009, there was a slight altercation between the Awutu-Senya West legislator and Joy FM's Upper East regional correspondent then, Joseph Osei.
The Trade Minister whilst assessing work on the Northern Star Tomato Factory made comments that were deemed unpalatable.
According to Joseph Osei, when the Upper East Regional Minister at the time, Mark Woyongo, drew the Trade Minister's attention to the fact that her comments could demotivate tomato farmers, she requested the journalists there to delete the comments from their recorders and television cameras.
This was later denied.
But Ms. Tetteh's apparent and inexplicable boycott of Joy FM continues unabated.