Guinea protesters honour uneasy truce in wake of riots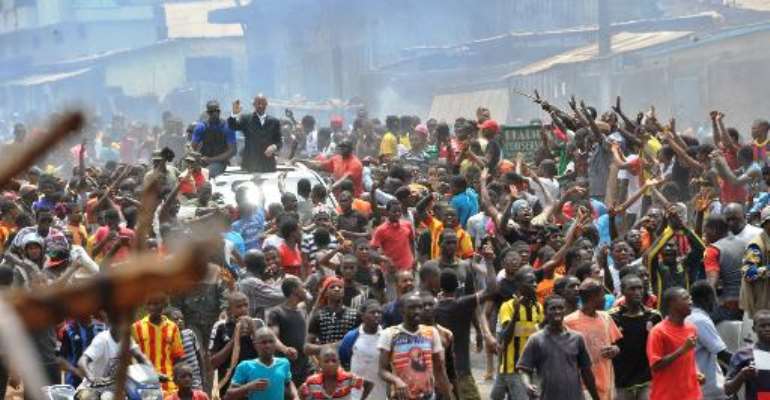 Conakry (AFP) - Businesses remained closed in Guinea's capital on Wednesday as police poured into the streets to maintain order after 48 hours of clashes between anti-government protesters and security forces.
Conakry had been rocked by violence since the early hours of Monday, when hundreds of youths gathered on the main road into the city centre and hurled stones at police.
The opposition said in a statement three people had been killed, including an unidentified young girl, while 50 had been wounded -- at least 12 by gunfire -- during the clashes.
"This particularly heavy toll is due to the violent repression of the event by police that carry out law enforcement with weapons of war, guaranteed absolute impunity by public authorities," the statement said.
The government, which denies police shot at protesters, has confirmed the death of a young girl "after a fall" but said on Tuesday just 10 people were being treated in hospital.
Smouldering rubbish, planks of wood, rocks and upturned tables littered the main route into the city centre on Wednesday but there were no reports of fresh violence.
Dozens of police stood guard at major intersections while officers were deployed in vehicles outside the party headquarters of President Alpha Conde in the Hamdallaye neighbourhood, where two protesters were shot on Monday.
Many outlets were shut while the Marche Madina -- the largest market in west Africa -- was empty of shoppers and traders, but the administrative and business district appeared to be functioning normally.
Guinea's opposition suspended the protests on Tuesday to allow activists and the public "space to breathe", but called Wednesday for "all peace and democracy-loving citizens" to join a march planned for Monday.
The protesters have been rallying against the fragile security situation in the west African nation, which they blame on the Conde's regime.
- Nigerian example -
They are also angry about the timetable set down for presidential and local elections, which they claim has been pushed through without consultation and gives the ruling party an unfair advantage.
The government called Tuesday for "the rapid resumption of dialogue with the opposition parties... in an atmosphere of serenity".
But the opposition has dismissed the offer as a "delaying tactic".
Its leader Cellou Dalein Diallo told AFP any dialogue with the government could only take place if the election commission cancelled the current electoral timetable.
The opposition boycotted parliament in March in protest over the timetable for a presidential election.
It has accused Conde of using the Ebola epidemic as an excuse to postpone voting and has called on supporters to back its demand to bring forward local elections due in March next year.
"The opposition has succeeded in attracting and some international attention to their demands," said Vincent Foucher, a Guinea specialist at the International Crisis Group think tank.
But he added that the deadlock could last some time, recalling that it had taken "almost three years, a series of protests and more than 50 deaths" before agreement could be reached on staging elections in 2013.
"With the elections in Nigeria, we saw that it was possible to create electoral experiences that work well in Africa, including in situations that seem very difficult," he told AFP.
"So international stakeholders are keeping a closer eye on the situation in Guinea," he said, adding that "United Nations and EU involvement in the electoral commission, in one form or another, looks to be essential".
Amnesty International urged Guinea in a statement to conduct a "thorough and independent investigation" into the shootings.
Amnesty, which said it had interviewed witnesses and human rights activists, accused police of firing tear gas and live rounds without at demonstrators throwing stones.