Islamic Development Bank to Support Ghana's Economic Agenda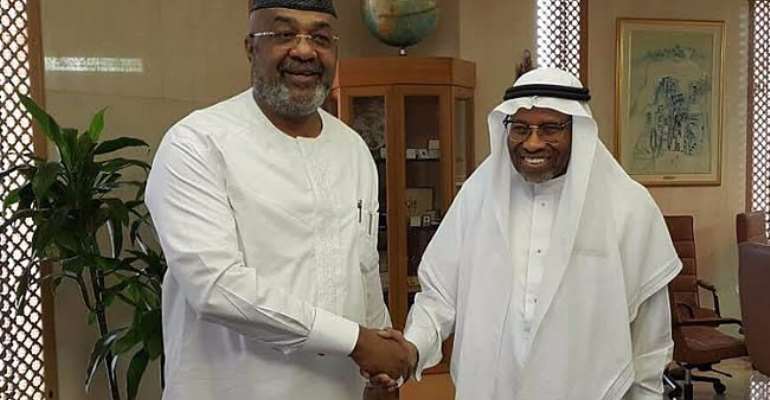 The president of the Islamic Development Bank (IDB) Group has urged the government of Ghana to join the Organization of the Islamic Cooperation (OIC) countries for the country to benefit from a number of development assistance being offered by the Group.
Dr. Ahmad Mohamed Ali Al Madani made the call when the Ghanaian ambassador to Saudi Arabia, Alhaji Said Sinare paid a courtesy call on him at his office in Jeddah.
According to Dr. Ahmad, Ghana and Liberia are the only two countries in West Africa who are still not members of the OIC.
He mentioned that by becoming a member country, Ghana will benefit immensely from development assistance especially in the areas of infrastructure development.
The Islamic Development Bank (IDB) Group is made up of 56 countries across the world, and the basic condition for membership is for a prospective member country to join the Organization of the Islamic Cooperation, the OIC. The main objective of the group is to provide resources for member countries to fight poverty and to restore dignity to their citizens.
Although not a member country, the IDB has supported Ghana with more than US$5.5 million in grants for the completion of more than 16 different projects across the country.
The Group has also provided scholarships to many young Ghanaians to pursue different academic programs especially in the Middle East and North Africa.
The President of the Group mentioned that should Ghana join the OIC, the country will now be well positioned to receive both technical and financial assistance from the IDB Group. He added that financial assistance from the Group, especially when it comes to loans, are interest-free.
On his part, ambassador Sinare thanked the president of the IDB Group for the warm reception, and extended greetings from President John Dramani Mahama to the entire IDB Group fraternity.
Alhaji Sinare said the government and the people of Ghana are very grateful for the support being given by the group, and assured the president of the Group that the government of Ghana will take a second look at joining the OIC.
He added that, when all our neighbouring countries are members of the OIC, it is only proper that Ghana too becomes a member so we also benefit from the development assistance being offered by the group.