GhanaVeg holds workshop for stakeholders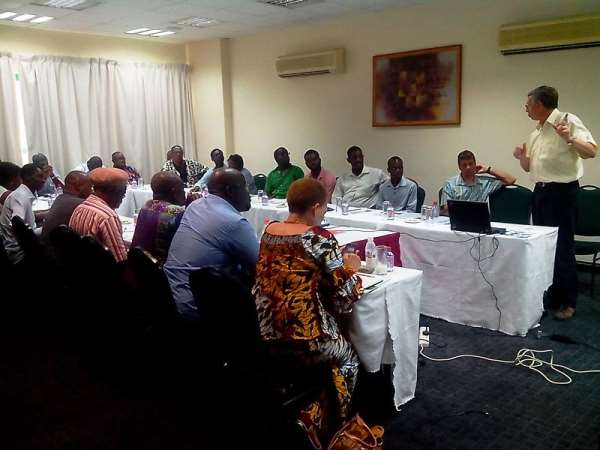 Accra, April 14, GNA - GhanaVeg, an initiative supported by the Embassy of the Kingdom of the Netherlands aimed at enhancing commercial agriculture in Ghana, on Tuesday held a training of trainers' workshop for stakeholders in the vegetable industry.
The day's workshop, which brought together consultants, agronomists, importers of agro-chemicals, vegetable exporters and producers; sought to broaden their knowledge on integrated pests and diseases control in vegetable crops.
It also aimed at enhancing farmers' profitability and ability to increase yield and engage in good agricultural practices.
GhanaVeg's mission is to establish a sustainable and internationally competitive vegetable sector that contributes to inclusive economic growth and has the capacity to continuously innovate in terms of the products and services.
It is driven by a strong belief in healthy and quality vegetables from Ghana through new ways of doing business.
The initiative targets the high-end domestic and international markets such as high end supermarkets, hotels, restaurants and exports.
Mrs Sheila Assibey-Yeboah, GhanaVeg Senior Business Advisor / Deputy Programme Leader at International Fertiliser Development Centre, urged participants to ensure that the knowledge they acquire from the workshop is impacted to farmers for the benefit of the nation.
She said Ghana stands to gain a lot from the experience of the Netherlands in horticulture and vegetable industries.
Mrs Assibey-Yeboah said there is the need for vegetable growers in the country to comply with international standards in the production, packaging and processing of vegetables.
She urged the government to link farming communities with good road networks; so that farm produce could be easily transported to urban centres to avoid wastages.
She appealed to the government and Ghana Airport Company to construct storage facilities for vegetables at the Kotoka International Airport in Accra to facilitate smooth export of vegetables and other perishable commodities.
Herman de Putter, Researcher, Wageningen UR (University Research Centre) said the prospects for the horticultural industry in Ghana are very bright.
He advised farmers to constantly update their knowledge in crop production to keep them abreast of modern trends.
Dr Ir Huub Schepers, Researcher, Wageningen UR (University Research Centre) warned farmers against cultivating the same crop on the same piece of land over and over again, which according to him would only serve as a recipe for pests and diseases.
He said good farming practices such as weeds control, and using quality seeds or resistant variety would help farmers to avoid the usage of chemicals; as the incident of pests and diseases would be reduced.
Dr Schepers urged farmers to either burn or turn remnants of infected crops into compost to help control pest and diseases.
Mr Samuel Nii Quarcoo, Chief Executive Officer of Quin Organics and a participant at the workshop told Ghana News Agency that it is high time the nation moves from subsistence vegetable production to commercial for both the local and export market.
He said organic farming is essential for quality vegetable production.
GNA