Sexual assault of YFM presenter: This can't be happening in Ghana- Pratt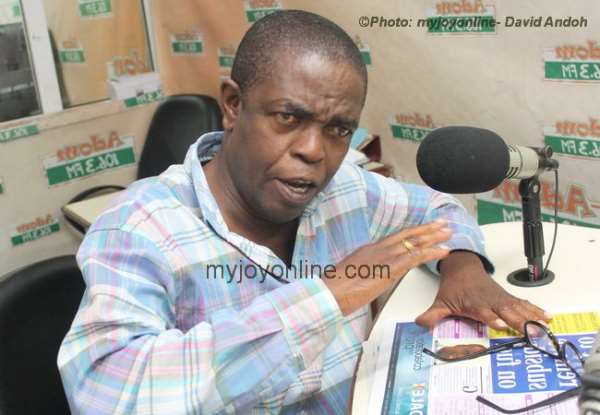 Managing Editor of the Insight Newspaper Kwesi Pratt is yet to come to terms with the crude, cynical and inhumane manner in which a presenter of YFM was abducted, raped and later exposed to the public by unknown men.
Pratt described the ordeal of the 'Y lounge' presenter in the Western Regional capital Takoradi as a clear case of torture which no human being must be made to endure. He said the situation was gravely disturbing, frightening and must be condemned in no uncertain terms.
Adaeze Onyinyechie Ayoka popularly known as Miss Ada was reportedly kidnapped and raped last week by three unknown men. The attackers after taking turns to rape her reportedly leaked nude pictures of the presenter via her Facebook account to further ridicule her in public. Her facebook account has subsequently been pulled down. Although she has been found and is currently on admission at the GAPOHA hospital in Takoradi, Miss Ada has not been able to speak to narrate her ordeal to hospital officials. Speaking on Peace FM's morning show 'Kokrokoo',
Mr Pratt said "I cannot believe this is going on in Ghana. This is a clear case of torture…I am frightened to the core." Occurrences of such nature in his view should not be allowed to continue in a civilised society like Ghana. He tasked the police administration in the Western Region to investigate the issue and punish the perpetrators of the crime he said could mar the life of the young lady forever. Linguistics lecturer at the University of Ghana, Legon Prof Kofi Agyekum who was also a panelist on the programme said the act is unpardonable and should not be allowed to go unpunished. He said the situation was a disgrace to the region which has just started producing oil.
Prof Agyekum said it baffles him that young men will come together and decide to torture the young lady in such manner. The act puts the security of young women in the region at risk and the police must not take the situation lightly. He also called for a thorough investigation into the matter and ensure that all the culprits are arrested and punished for this barbaric act. Meanwhile fresh details emerging about the abduction indicate that this is the 5th time Miss Ada has been kidnapped. Police in the region say they have begun investigation into the abduction and assault of the presenter.
The Takoradi district police commander Superintendent Peter Ofori Donkor told Joy News she will be interviewed to aid the process of the investigation.
Story by Ghana | Myjoyonline.com | Naa Sakwaba Akwa | [email protected]