Dzorwulu Rotary commissions pedestrian crossing for Community Basic School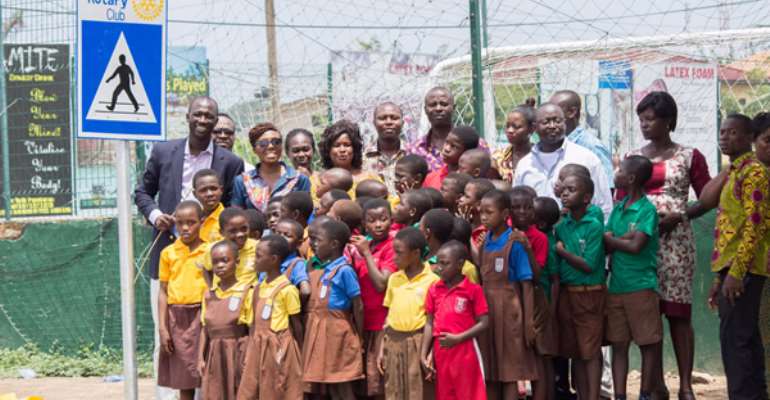 The Rotary Club of Accra-Dzorwulu has commissioned a pedestrian crossing for the pupils of the Dzorwulu A&B Basic School as part of activities to mark the one year anniversary of the Club.
Speaking to the media, Ms. Yvonne Ablorh-Quarcoo, President of the Club explained  they were "Inspired by our Rotary motto of Service Above Self" to deliver several humanitarian projects as a 'Birthday Gift' to our community on the occasion of our first birthday."
The Club has noted with concern how the busy nature of the Dzorwulu road poses a fatal risk to the pupils of the Basic school.
With the school sited close to the road, the Club is convinced a pedestrian crossing would help eliminate the risk of road accidents.
As part of a week-long programme of activities the Club  had early on organised a Blood Donation Drive at the A&C mall. 
The Club also organised a reading session with the school kids and donated the popular "Anansesem" books to pupils of the Basic school.
The donation was in collaboration with renowned author and publisher, Abyna-Ansaa Adjei.
The assistant headmistress of the Dzorwulu A&B Basic School, Madam Leticia Agyei was elated by the gesture of the club, saying,  "The Rotary Club of Accra-Dzorwulu always has our best interests at heart. We cannot thank them enough for their care and generosity". 
Rotary is an international humanitarian service organisation made up of business and professional leaders who volunteer their skills, time and resources in social causes that change lives and improve communities.