Akufo-Addo Warns MP Aspirants To Stop Using His Name To Campaign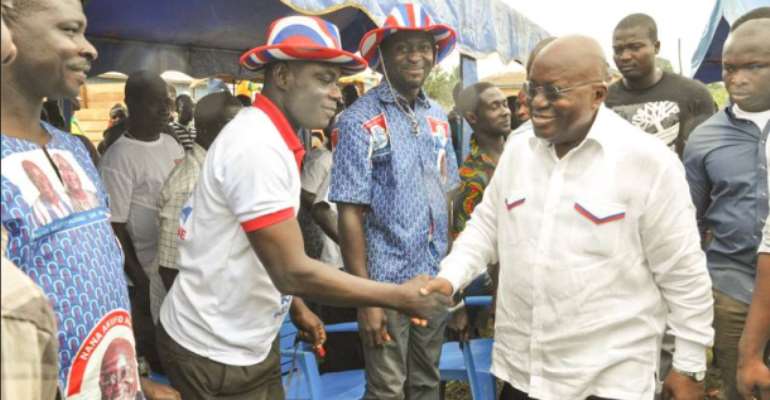 The presidential candidate of the New Patriotic Party (NPP), Nana Akufo-Addo has cautioned aspirants in the party's upcoming primaries to desist from using his name to solicit support from delegates.
He has also urged the candidates to campaign on their own strength and merit and has pledged to support any candidate who emerges winner at the end of the primaries.
Nana Addo's concerns were disclosed by his spokesperson; Mustapha Hamid, in an interview with Citi News following reports that some aspirants have been making claims about Nana Addo's purported support for them in their campaigns.
He stressed that Nana Addo is very concerned about the matter because, as a presidential candidate, he is looking for persons "who can win in the constituencies and win those constituency seats for us to obtain a majority in Parliament."
Mustapha Hamid added that it is imperative for the entire party to know that, "Nana Addo is not sponsoring any particular candidate to contest Parliamentary seats."
He therefore warned that any candidate who is engaged in that practice "should desist from using his name."
The party delegates were also cautioned not to believe any aspirant who claims to have the backing of Nana Addo.
"Nana Addo wants everybody to campaign on their own strength and anybody that emerges the winner, he is prepared to work with the fellow to make sure that we win those constituencies," he remarked.
Mustapha Hamid threatened that if "it comes to our notice that specific candidates are using Nana Addo's name to campaign, he [Nana Addo] will confront them or call them before the party's disciplinary committee."
The NPP delegates will head to the polls on May 24 to elect Parliamentary candidates who will represent the party in the 2016 general elections.
The opening of nominations which was slated for March 30 has been suspended by the leadership of the party.
However, campaigning has begun in earnest.