Haruna Iddrisu fan deflates Murtala Muhammed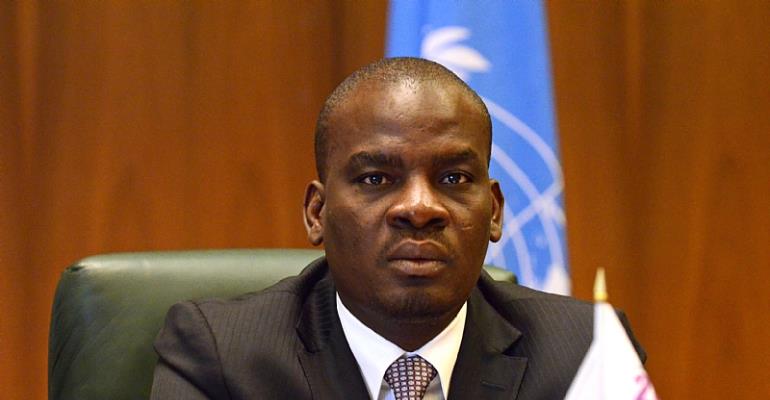 I have tried to withhold my comments about Hon. Murtala's outburst on Diamond FM. But I can't any longer. I have to speak my mind now. His comments were rather unfortunate as an entrant MP in the game of politics. And I won't be surprised if he feels remorseful over those comments now.
Well, Ola Rotimi is of the view that lizards are not crocodiles and hedgehogs are not crocodiles simply because they lookalike. Murtala becoming an MP doesn't make him a co-equal of all MPs. A butterfly is not a bird merely because it can fly.
With all sincerity, Murtala is not Haruna's match in many endeavours. Murtala is undoubtedly made who he is by politics. But Haruna was Haruna even before he became an MP by beating the almighty Alhaji Mustapha Ali (May his soul RIP).
Without politics, the popularity of Haruna soared beyond Tamale. There was no single secondary school student who didn't know or heard about Haruna Iddrisu. It was his brilliance and intelligence that won him several accolades including Harun Econs. At a point, his name became synonymous to Economics as a subject. He was so much celebrated and revered by everyone who values knowledge and excellence in its raw sense.
Hon. Haruna went further to write his name in the Hall of Fame of student leadership by becoming the NUGS president. People ought to find out what won elections those days - pure intelligence. In some circles, he was described as the 'fire spitting' leader with great oratory prowess. So, Haruna is born not only as a rare gem of intellect but a leader too.
Presently, Haruna is one of the three distinguished northern politicians which include Mohammed Amin Anta and Mustapha Hamid. I'm not sure Murtala is anywhere close to that feat. And I'm not sure he is on that trajectory as evidenced by his unbridled penchant to go bananas with mere rumours.
Haruna by all standards including the Ivy League barometer is a smart guy! It will only take an intellectual prolapse, jaundiced mind and academic dishonesty to discount that hard fact. Let's not get carried away by certificates. A true certificate is in the head. That's why Einstein's said imagination is better than knowledge.
Haruna's logical appreciation of issues is heart-warming. The first time I met him was when he came out of taxi at NIB junction. I was stunned to the marrow after interacting with him on the Election Petition Hearing. Indeed, knowledge is like underpants. It's necessary to have it but you don't go around showing it to everyone. That's childish! God forbid, if I ever contemplate joining the NDC, then he will be the singular motivation. If there is any politician who has soft spot on the heart of many NPP members, then it's the man unanimously referred to as the General of Northern Politics. This explains why, he always obtain more votes than his presidential candidate in every general election by a huge margin.
Certificates don't reason for their owners: so, enough of the hype over mere printed papers that are awarded but not attained. If Haruna desires, he can gather and compile certificates as much to fill the pages of an encyclopaedia. He's more dedicated to serving country and humanity now. But for politics, Haruna would have been more popular than the gods of Nanton and beyond. He would have been a demigod of several students. Nonetheless, those days he used to deliver students from the evil spirits of Economics will never be forgotten.
Hon. Haruna was cited for plagiarism in his thesis, 'Sociological Investigation into Bribery and Corruption in the Public Service of Ghana' presented for award of MPhil in Sociology. The heavens are threatening to come down because of his academic and political standing. Trust me, an ordinary person will be unheard in similar situation. To be brutally frank, it was more of a political machination than academic sanctity in the revocation of his MPhil. Our own Kyei Mensah Bonsu's remarks on the vetting of Haruna Iddrisu were very classic and profound. To paraphrase him, Haruna, you are an intelligent and hardworking young man. The revocation of your MPhil by the university truly speaking came to me as a surprise. Don't be demoralised. You have an enormous potential to achieve greater academic laurels.
A grapevine information had it that Hon. Hackman Owusu Agyemang met Hon. Haruna and apologised as a member of the board who revoked his MPhil. Another angle said his MPhil was revoked in that he could lose his LLB if he had done it with his MPhil.
Later on, the university wrote to him to challenge their decision but he stated explicitly that he was not interested in the issue again.
It was all politics!
However, every student of common sense should know that plagiarism or no plagiarism, Haruna is a phenomenal thinker, great debater and unruffled goal getter. No matter how he is perceived that mark of greatness is inseparable from his person.
It is sad for Hon. Murtala with his impeccable academic record to insult chiefs and imams of Tamale as hypocrites and eaters of filthily made monies. Dear me! I guess he has a certificate in insults too. Doesn't he think it was the case of salt praising itself?
If he is losing grip of his Nanton seat then this is not the right way to get it back on track. He should try academic measures instead of this foot soldiers approach. He ought to render unqualified apology to the chiefs and imams for the wanton mudslinging of their names.
It is sad that Hon. Murtala will challenge the General to come and contest him for the Nanton seat. Is he not rather risking his village seat? If my memory serves me right, he has struggled many times in the parliamentary primaries of the major Tamale constituencies until he ran to Nanton where the competition is not keen. How do you compare and challenge once unopposed candidate of the mighty Tamale South Constituency to compete for Nanton seat? This is nothing but a mere hot air.
Hon. Murtala, how do you know that Hon. Haruna doesn't observe his prayers always? I guess somebody told you. And you believed it. I'm not surprised but be reminded of Abdallah Malcolm's warning of your "too much" faith in the somebodies. However, ordinary men can't be the judge of piety. Allah is the best judge. What you must also note is the fact that observing five daily prayers is not the surest ticket to Allah's Heaven. It is the gift to those whom Allah has bestowed his mercy on. Let's be careful of how we judge our fellow Muslim brothers and sisters. Let him who is without sin cast the first stone.
Hon. Haruna is an enterprising politician. I have never heard any alleged corruption tag on his person. A pious Muslim like Murtala should be ready to provide evidence of act of corruption against Haruna rather than these needless effusions. A self-acclaimed piety will amount to nothing if you go on with this "somebody says" story about Haruna being corrupt.
Hon. Haruna is not an angel but the truth is he is outdone any other NDC MP in the Northern Region. Instinctively, other MPs feel threatened by his fixed desire to achieve his goals. His character of visiting and mingling with his constituents provided an avenue for other MPs to learn the basics of true leadership. It is not leadership to seek for people's power and run with it, only to return to seek for it again. Generosity is his hallmark and it has elicited hitherto close-fisted MPs to open their palms to their constituents. As a matter of fact, he serves as a role model to some accidental MPs.
I have noticed that the Adunbiliyili guys are well focused and have their eyes fixed on the prize. They hardly respond to childish and provocative posts and comments. Indeed, you will never reach your destination if you have to stop and pick stones and throw it at every dog that barks at you. The Adunbiliyili team should stay put with their civility in attaining their targets.
What God has raised shall forever be out of reach of men. Hon. Haruna is like the sun, no amount of the darkness campaign will fly.
Haruna Iddrisu, forward it is!