Ghana's 58th Anniversary Independence Lecture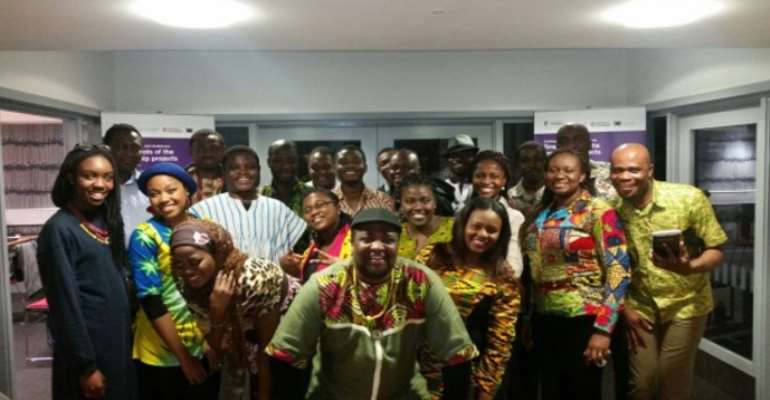 "From now on today we must change our attitude with our minds", "We are no more waiting and we shall not go back to sleep anymore" both entail hard work and sacrifices and finally "we have to create our own African personality and identity". - Dr Kwame Nkrumah (1957)
As part of Ghana's 58th Independence anniversary, the Ghanaian Society at the University of Nottingham came together to channel their acquired knowledge and experience towards National development. The ceremony witnessed an interesting discussion on success, opportunities and challenges over the past 58th years considering that Ghana has two more years to reach the pension age.
The president of the society wished Ghanaians a happy anniversary and congratulated Ghanaians for the peaceful and democratic environment in Ghana thus far. Aside from urging Ghanaians across the globe not to forget their root, he also pointed that a day like this should be meant for reflection and not only for celebration. He called for discipline and instilment of our traditional value systems which seem to have collapsed and that African democracy without these traditional value systems is a mirage.
Ghana, having had six elections and two successful transitions and coming out victorious as a nation following the 2012 election petition, the speaker, Mr Abdul Rahaman (a lecturer at the University of Ghana, Department of Economics and currently a PhD student at University of Nottingham) acknowledged the peaceful atmosphere in the country. He spoke on the Business opportunities in Ghana from the macroeconomic perspective, touching on how macroeconomic variable such as the inflation, exchange rate, and interest rate affect business in Ghana. With respect to interest rate, he emphasised the need for policy makers to implement policies which will reduce the current interest rate in the country, since higher interest rates means higher cost of borrowing and therefore business will be reluctant to borrow to expand their business.
Speaking on exchange rate he explained that Ghana being currently an import dependent country relies on purchase. The Cedis has depreciated against the major trading currency for sometime now but seem to be stable at the moment which is good for business as unstable currency results in unstable business. In his opinion, the instability over the past years can be attributed to speculation as exchange rate seem to be one variable political parties use to win elections thus encounters being meddled with by politicians.
Continuing with Inflation, he mentioned the current inflation is about 16.4% and could be looked at from the suppliers or consumers perspective. In terms of supplier, it has a huge implication by increasing production cost which in a long run affects productivity.
He believe the country's legal environment is conducive for business and mentioned the telecommunication sector including online banking, self-check services and online trading and deliveries such as the eBay's and Amazon as some sectors to explore.
He concluded by answering a question on IMF bailout and subsidisation he indicated that the merit from IMF bailout is discipline as it will ensure that we consolidate our physical discipline in terms of expenditure but we might face a challenge of privatisation. With regards to subsidy, he believes the way forward is to lift subsidy which is often to the advantage of the rich rather than the poor but lifting subsidies should come with implementation of social mitigation measures to cushion the poor.
During discussion, members raise concerns on how Ghanaians have misinterpreted what success means by seeing it as possession of physical wealth which has corrupted the society. In addition, the group believe that it's time for Ghana to work, enough of the sweet talk and promises. Again, as a country we have to prioritise our needs by having a national road map to be followed by any government because until we start telling our leaders what we want to be done as a nation we will lose our bearings. Ghana is the eye and hope. God bless Ghana and long live Ghana.
To find out more about the event and society email [email protected]
Contact;
Osman Dufailu, President
[email protected]
+447459857725
Hip Hip Hip Hurray