12 killed in IS bombings in Egypt's Sinai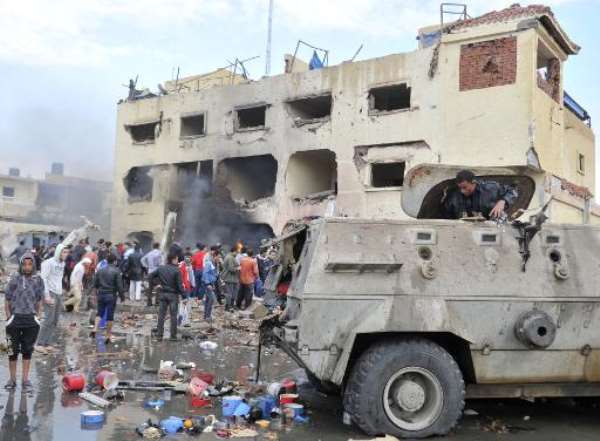 An Egyptian man stands in an armoured vehicle as residents gather outside a police station in North Sinai's provincial capital of El-Arish after it was targeted by a car bomb on April 12, 2015. By (AFP)
Cairo (AFP) - Two bomb attacks targeting security forces in Egypt's restive Sinai Peninsula on Sunday killed at least 12 people, including six soldiers and five policemen, officials said.
Ansar Beit al-Maqdis, which has pledged allegiance to the extremist Islamic State group, claimed responsibility for both attacks.
The group has carried out a slew of attacks in Sinai since the army's ouster of Islamist president Mohamed Morsi in July 2013.
A roadside bomb attack on an army vehicle killed six soldiers and wounded two near the North Sinai town of Sheikh Zuweid, a jihadist stronghold.
"An armoured personnel carrier for the army of the apostates was destroyed... killing and wounding all aboard," Ansar Beit al-Madqis said on a Twitter account attributed to it.
The military confirmed that six soldiers were killed in the attack.
"Their vehicle was targeted by an explosive device placed by the extremist terrorist elements which left an officer, a sergeant, and four soldiers martyred, and two other soldiers wounded," it said on its Facebook page.
Hours later a suicide car bomb targeting a police station in North Sinai's provincial capital of El-Arish killed five policemen and a civilian, the interior ministry said in a statement.
Medics said the attack left another 44 people wounded, including at least 15 policemen.
The interior ministry said security forces fired at the vehicle before it was able to ram the police station.
"Security forces fired at the vehicle which exploded, killing five policemen and a civilian, and wounding several other policemen," it said.
A police officer said the truck was loaded with explosives but covered with straw, and blew up close to the police station.
"A den of the apostate police was targeted in El-Arish by a car bomb driven by a martyr," Ansar Beit al-Maqdis said as it claimed the second attack.
Ansar Beit al-Maqdis changed its name last year to the Sinai Province after pledging allegiance to IS.
It has claimed several sophisticated attacks in Sinai and the Nile valley and now wants to establish a province of the self-declared IS "caliphate".
Attacks against crackdown
Also on Sunday, an army captain and two soldiers were wounded in an attack on a checkpoint near the town of Rafah that borders the Palestinian Gaza Strip.
Ansar Beit al-Maqdis said one of its snipers shot at them.
The army has sent troops and armour to fight a dogged insurgency in the Sinai that has grown since then army chief and now President Abdel Fattah al-Sisi ousted his Islamist predecessor Morsi.
Ansar Beit al-Maqdis says attacks on the security forces are in retaliation for a government crackdown on Morsi's supporters that has left hundreds dead.
Thousands more have been imprisoned and dozens sentenced to death.
Sunday's attacks came a day after a Cairo court confirmed death sentences against Muslim Brotherhood leader Mohamed Badie and 13 others for protest violence.
Jihadist attacks in Sinai have left scores of soldiers and policemen dead.
On April 2, Ansar Beit al-Maqdis militants launched simultaneous attacks on five checkpoints in the region that killed 15 soldiers and two civilians.
In January, a combined rocket and car bomb attack on a military base, a nearby police headquarters and a residential complex for army and police officers killed at least 24 people, most of them soldiers.
The attacks came despite stringent security measures imposed by the army in the province.
After a late October attack on a military base near El-Arish, the army imposed a night-time curfew and state of emergency in parts of the region.
The army has also established a buffer zone along the border with the Gaza Strip to prevent militants infiltrating from Palestinian territory.
Egypt is also facing a threat on its western border from a chaotic Libya where the influence of IS -- which has seized chunks of Syria and Iraq -- is growing.
Arab leaders agreed at a summit in March to form a joint military force to fight "terrorist groups" in the region, after Sisi insisted for months on the creation of such a move to contain of IS.