General Muhammadu Buhari And The Baggage Of History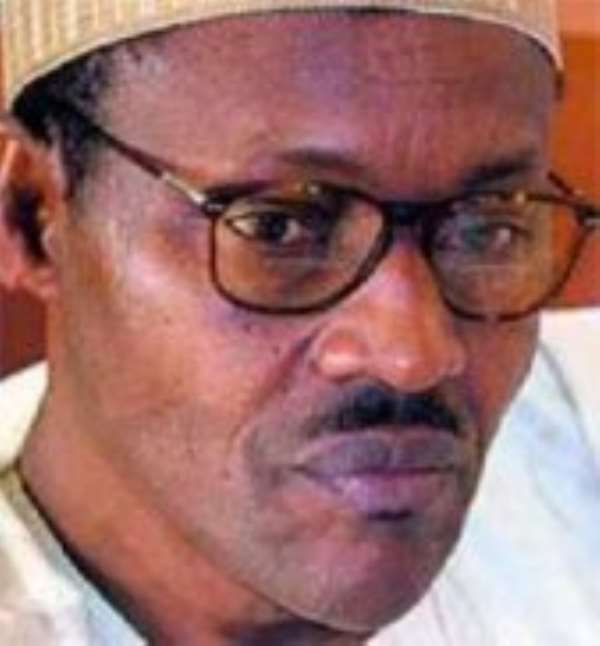 'FOURTH time lucky': this will surely be the phrase that the supporters of General Muhammadu Buhari will use when describing the amazing victory he has just scored against President Goodluck Jonathan in Nigeria?
You see, in Nigeria (more than in most countries) it is not possible to win an election without money. And, usually, no-one has more of it than a candidate who is campaigning from a position of incumbency.
Small and not-so-small favours done to companies and individuals bring in financial dividends. New contributors are also not lacking from the ranks of those who have an eye on securing future favours. So the 'war chest' that had been accumulated through the bribes, commissions and outright 'gifts' during the days of power multiply on geometric proportions.
It takes a certain amount of mettle for an individual to be able to carry on fighting such a system once every four years, for four consecutive 4-year periods. Especially where, as in Buhari's case, the last attempt (2011), resulted in one garnering only 32% of the vote, to the 59% obtained by the incumbent, the same Goodluck Jonathan one was facing in 2015. And - worse - when one knew that in 2011, one's support had consisted almost entirely of votes based on regional-cum-ethnic loyalties. (Buhari's 2011 support was made up of 97% of the votes cast in Northern Nigeria.)
But whereas such a formidable set of statistics and circumstances might have discouraged another individual with a similar background from sticking to the constitutional path to power, and tempted him to resort, once again, to a 'military solution' (Buhari once staged a coup, in December 1983, against the civilian government of President Shehu Shagari ) Buhari continued to prefer the electoral route.
As he did this, Buhari was mocked for being 'too old' - at 72 years of age. More damaging was a charge that he had now become the 'tool' of politicians from Southern Nigeria, some of whom were every bit as corrupt as the Jonathan administration that he, Buhari, had been railing against.
However, Buhari himself saw his new situation in terms familiar with military strategy: namely, that he had 'regrouped' his human resources, abandoned moribund tactics, and acquired new allies.
Buhari(left) with Jonathan
The Nigerian electorate bought into the idea that Muhammadu Buhari had 'reinvented' himself. So, even when President Jonathan's People's Democratic Party (PDP) postponed the election for some weeks in order (some suspected) to 'perfect' the rigging machinery it had secretly put in place, it was Buhari who eventually obtained a majority of the votes cast.
Buhari beat Jonathan by 2.5 million votes in the presidential election, and, in the process, also satisfied the constitutional requirement that he should obtain 25 percent of the votes in two-thirds of 36 states. That Buhari achieved all this at one go was astonishing. President Jonathan recognised this when, in a noble gesture, he telephoned Buhari to concede victory to him.
Buhari will assume office in May 2015. His major tasks will include:
Taking on the insurgent group known as Boko Haram and working out a practicable military campaign for defeating and uprooting it from Nigerian society. This will mean that his alliance with Christians (such as his Vice-President-elect) should be seen to be an alliance of equals, not one in name only. For Nigerian political tradition suggests that he could create a two-tier governing system. This would easily happen if Buhari begins to rely more on a 'kitchen cabinet' (made up of Muslims and Hausa-Fulanis close to him) whose members would wield greater power - through the exercise of influence - than the substantive holders of Cabinet posts. Nigerians have experienced this bi-polar system of government several times before (including the era of 'Super-Permsecs' in which the top civil servants wielded more power than their military overlords), and would recognise it the moment it reared its head again. And they would react against it by ruthlessly sabotaging Buhari's government and reducing it to near-paralysis.
Taking measures to stop the pilfering of public funds. This is, undoubtedly, one of the most difficult problem facing Nigeria. Nigeria earns enough from its huge oil revenues to balance its budget on current account and have enough remaining to carry out capital expenditure on projects such as the installation of adequate power, the resuscitation of infrastructure (including roads, railways and air transport); and the provision of social services. Yet because funds are pilfered, broken-down hospitals and clinics remain unequipped; schools and other public institutions remain in poor condition, and many public services are notable by their absence.
Governing in such a way that the populace will come to believe that he has truly reinvented himself and is now a democrat. This is important because Buhari does carry a lot of political baggage that he collected in his first incarnation as Nigeria's head of state , from 1983 to 1985. He courted opprobrium then, both at home and abroad, with regard to two incidents - the imprisonment of some Nigerian journalists for merely jumping the gun and publishing the names of ambassadors-designate, without waiting for an official announcement first, and the use of Israeli agents to abduct, in broad daylight in the streets of London, of the Nigerian former minister, Dr Umaru Dikko, and attempting to airfreight him back to Nigeria.
But all that was a good 32 years ago, during which time a baby that was born could have grown up and had babies of its own. If such a person were told about Buhari's 'political baggage', he/she would probably ask with unfeigned astonishment: 'Baggage? What baggage?'
Who are those of a later generation to question a person of this new era, to whom the future of Nigeria unquestionably belongs more than anyone else?
By Cameron Duodu 
www.cameronduodu.com