Russia, Madagascar deepen co-operation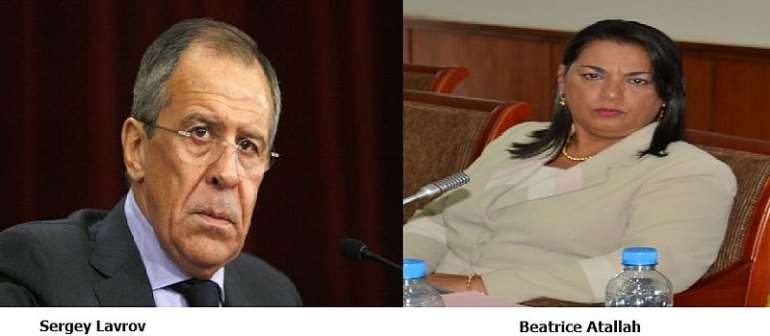 Moscow, April 10, GNA -   Russia's Foreign Minister, Sergey Lavrov, and Madagascar's Foreign Minister, Beatrice Atallah have agreed after diplomatic talks to deepen cooperation in the existing priority areas including geological exploration, tourism, banking, personnel training, and military-technical cooperation.
Both ministers have also reviewed the current state of bilateral relations, and reaffirmed their mutual interest in intensifying necessary contacts in all areas, and further agreed that 'there is good potential to expand trade and economic ties and investment cooperation.'
'We also agreed to provide assistance to business communities on both sides, encouraging them to discuss and establish direct contacts and to identify mutually beneficial projects,' Lavrov said in response to media questions at a joint news conference following talks which were held in Moscow.
Last year, bilateral trade rose 12 per cent, and they have agreed to maintain this trend.
The two parties also discussed the major issues on the global agenda and the situation in Africa. 'We have shared views on ways to improve global and regional stability and security. We adhere to the principles and goals enshrined in the UN Charter and are committed to political resolution of conflicts through dialogue and without external interference,' the minister said.
Lavrov said that the two countries were good at interacting in the UN and within its various bodies. 'We appreciate our Malagasy partners' support for important Russian-proposed initiatives, such as the resolutions against the glorification of Nazism, on cooperation and confidence-building in outer space, and on cooperation on international information security issues,' the top diplomat stressed.
In Africa, many conflicts are mediated by the international community, including those in South Sudan, the Great Lakes region, and the Horn of Africa. 'We believe (and our colleagues share this approach) that ways to resolve these crises should primarily be determined by Africans through the African Union, which has the necessary political tools, and through the strengthening of various sub-regional mechanisms that are active in stabilising the respective parts of Africa,' Lavrov added.
He, however, pointed out that 'Russia will actively assist this process both as a permanent member of the UN Security Council (the body that deals with the relevant initiatives and proposals of African states) and through cooperation with sub-regional organisations, such as the Southern African Development Community (SADC), which includes Madagascar. We will continue the practice of regular ministerial meetings between Russia and this sub-regional organisation.'
Over the years, Russia has assisted in personnel training for African law-enforcement agencies and for peacekeeping operations. This practice will continue and expand as a key step to fight extremism, terrorism and related organised crime, along with drug trafficking which are among the main threats in Africa as well as in other parts of the world.
This is manifest - in Africa and the Arab world as well as other places - in the growing activity of various terrorist organisations such as Al-Shabab, Boko Haram, Al-Qaeda and others. It is today's priority to make more effective international effort against terrorism, and Russia and Madagascar have identical views on this. Russia and Madagascar have agreed consolidate the anti-terrorist front through the United Nations and the regional organisations to fight international crimes.
GNA