Stratcomm Africa Our Story, Your Story Features Dr. Leticia Osafo-Addo Of Samba Foods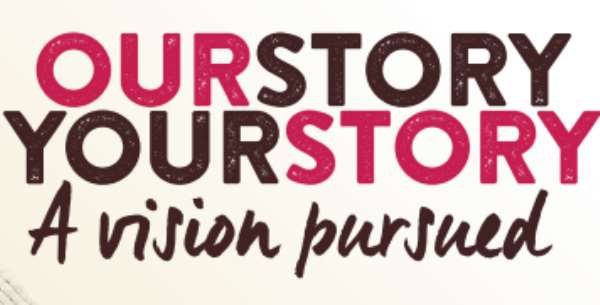 Anesthetist…Commercial Shito producer…two terms that you don't usually see used in the same sentence much less used to describe the same person. Yet they are embodied in the same person: Dr. Leticia Osafo Addo, the visionary entrepreneur.
Dr. Osafo Addo is the CEO of Samba Foods, a manufacturing company that, in 1993, was established to commercialize the production of distribution of that hot, black, ubiquitous pepper sauce that we know and love as "Shito." Her entrepreneurial drive to elevate this common local condiment to regional and then global heights was unearthed during her Ahmadiya secondary school days of assisting her mother at her cloth shop in Kumasi, the city of Dr. Osafo Addo's birth.
She continued to assist her mother during and after she had written her O-levels, and upon the release of the examination results, Dr. Osafo Addo moved to live with her uncle in Germany to further her education. In 1974, while studying for her anesthetist degree, Dr. Osafo Addo married her now-late husband, with whom she had 2 children. Ten years after her wedding, her husband decided they would move back to Ghana to seek work as a Specialist Physician.
Dr. Osafo Addo and her husband moved to Dawenya near Prampram, but employment did not begin as soon as planned as she decided to be a stay at home mother until both children were enrolled into kindergarten. It is during this period that she identified a gap in the Shito supply market. Although Shito was widely consumed, it was not available in stores, and Dr. Osafo Addo's keen entrepreneurial eye, which was honed in Kumasi, was about to make itself known in Dawenya.
She started off by producing 10 sample bottles of Shito for her friends. Their reviews were highly encouraging, so she continued her experiment by offering 20 sample bottles to the then Kingsway Stores. The Stores' customers' response was incredible; all 20 bottles had vanished from the shelves within the span of 72 hours! The store manager, no doubt equally amazed at the response, encouraged her to turn her mass Shito production experiment into a full-time business venture.
Buoyed by this encouragement, Leticia approached the Ghana Standards Board for some much-needed direction regarding a business plan and a mass production process. The Board then inspected her product and production location, and, after deeming them up to scratch, gave Dr. Osafo Addo the green light to begin production. April of 1994 saw the establishment of Samba Foods, as Dr. Osafo Addo successfully produced her first batch of packaged and labeled glass Shito bottles.
Naturally, Dr. Osafo Addo's burgeoning Shito manufacturing business faced a series of formidable challenges. In addition to the difficult, albeit run-of-the-mill, financial, human resource, and business development challenges that small businesses face, Samba Foods had to contend with singular problem regarding Shito packaging. The business's glass bottle supply was rapidly diminishing, and she had to quickly find a viable alternative. Leticia approached a plastic container producing company that had Vaseline jars among its products. Upon reaching an agreement, the plastic company agreed to produce 200 plastic jars for Samba Foods. Having duly filled each of the 200 jars with her delicious Shito, she approached Kingsway Stores, her first customers, with her new products. 24 hours later, Leticia received a call from Kingsway Stores. This time it wasn't another report about the rapid Shito sales. Instead, she was told the Kingsway Stores warehouse had been flooded. Not with water, but with oil. Shito oil. Unfortunately, all 200 Shito jars had cracked after some of the Shito's ingredients had reacted with the plastic of the jars. Shaken but undeterred, Dr. Osafo Addo switched to packaging her Shito into glass jars, and thankfully, this incident never re-occurred.
Leticia faced personal and societal challenges in addition to her business-related ones. Her mother was initially devastated about the abrupt career change from Anesthetist to commercial producer of a humble, traditional condiment such as Shito. All she could glean was a loss of investment in her daughter's anesthetist training. Wider society, with its tendency to demean non-white collar professions, also ridiculed her for repatriating to Ghana to pursue this new career path, bestowing her with the title of "the lady who has returned from abroad to cook Shito."
Thankfully, Dr. Osafo Addo received support from various avenues, which kept her pursuing her shito production. For one, the media wrote features on her that portrayed her in a positive light, and she received words of encouragement for pioneering Ghana's commercial Shito production industry. She never lost sight of the bigger picture and this kept her going.
More than two decades later, Samba Foods has overcome various stumbling blocks to be a renowned business that even supplies international fast food restaurant chain such as Kentucky Fried Chicken (KFC) in Ghana with Shito. These are exciting times for Samba Foods and its founder and CEO, as the company is also on the threshold of becoming the first small and medium sized enterprise (SME) to be listed on the Ghana Stock Exchange. The company will also be outdooring new products. Dr. Osafo's vision of establishing a food-processing emporium in Ghana is also on the threshold of realization.
Tolerance, support and recognition from family are very essential elements to an individual's success. Most importantly, we must have a dream for the people around us to support. Living wholeheartedly for a vision will enable us to successfully bulldoze our way through distractions and maintain a steadfast focus. Mrs. Leticia Osafo-Addo was focused; although she ventured into territories she knew nothing about she elbowed her way through challenges and successfully made it to the top. She found a niche in the market and without a second look back she captured it! Determination allowed young Leticia to turn a common product like Shito into an internationally recognized commodity. When we dream, things that are seemingly 'worthless" can be breathed into and suddenly become "worthwhile". Give life to your dreams today.

2015-04-10 121352