Four-time major champ Els makes best Masters start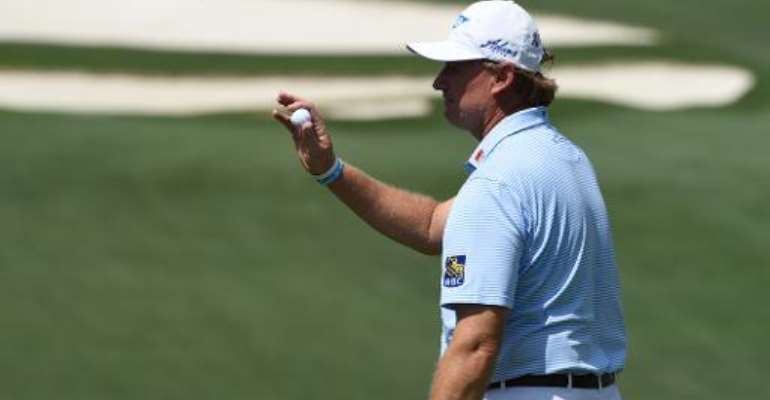 Augusta (United States) (AFP) - Four-time major champion Ernie Els, hungry for the green jacket that has eluded him for decades, moved into Masters contention Thursday with a five-under par 67 opening round at Augusta National.
The 45-year-old South African broke 70 in the first round for the first time in 21 Masters appearances, five birdies and an eagle signaling another chance to win a green jacket after numerous near misses.
"There's a lot of golf to be played, but it's a really nice start," Els said. "We've been working hard on the game to get it into a better shape. It takes a bit more self belief and I think it's coming through with rounds like this. We'll keep grinding."
Els, a two-time winner at both the US and British Opens, is cautious about pondering his jacket size just yet.
"We'll see what happens. I still feel I can get something out of (my game)," Els said. "These guys are good but you've got to get the most out of it.
"Plenty of golf to be played. You can't even be dreaming about Sunday yet. There are some improvements I still can make. I still missed a couple of iron shots here and there, but for the most part I've just got to stay patient."
Two-time Masters runner-up Els, who has slid to 84th in the world rankings, missed the cut in four of his past six US starts.
"There has been no sign of any form so it has been very special," Els said, citing made cuts with more than 20 birdies at Bay Hill last month and Houston last week.
"I was trying to drag something positive out of those weeks," he said. "It has been kind of a rough ride this year. I've been tinkering with my game a little bit but I hadn't gotten any results.
"This is wonderful. To get something under par, hitting it solidly. It's a really nice start."
Els, who was second at Augusta National in 2000 and 2004, won the 2002 and 2012 British Opens and 1994 and 1997 US Opens.
- Wants Masters 'so badly' -
Els admitted there was a lingering impact from his one-shot 2004 Masters loss that brought Phil Mickelson his first major victory.
"Definitely. I was trying to wipe it under the carpet that I wanted this one so badly for so many years," Els said. "There was something going on. You get fed up with yourself, with the mistakes that you make. I felt that I left shots out there in that span, that five-, six-year span, so a little frustration set in."
Els missed qualifying for the 2012 Masters but won the British Open to secure a trip back, yet he knows that without a green jacket, his days at Augusta might be numbered.
"We kind of are running out of time a little bit here, so we are really trying to enjoy what we've got left," Els said. "It has been 21 years coming to Augusta, It has been unbelievable, but nothing lasts forever."
On Thursday, Els birdied the par-5 second and par-4 third. After a bogey at seven, he birdied the par-5 eighth, 10 and the par-5 13th before his eagle at the par-5 15th briefly tied him for the lead before he closed with a bogey.
"I made two good birdies on two and three and that got me in the right flow," Els said. "I really felt comfortable over the putter and the driver. The game felt solid."