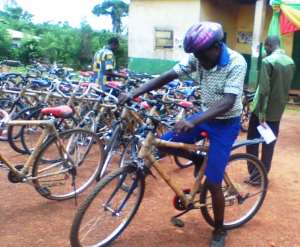 Kuapa Kokoo Farmers Union has started a pilot project to supply bamboo bicycles to school children in cocoa growing districts in Ghana.
The educational project, code-named "Kuapa Sukuu Sakrele", is intended to be scaled up to more school children to boost school enrollment at the local level.
At the project launch at Dadieso in the Western region, the Union donated 100 bicycles to school children in five districts.
The bicycles worth GhȻ50,000 were manufactured by the Ghana Bamboo Bikes company and sponsored by Divine Chocolate Company, a UK subsidiary company of Kuapa Kokoo Farmers Union.
Executive Secretary of the Union, Appau Abrampah Mensah, says the provision of the bikes is to enhance the children's mobility to and from school.
"The project is aimed at developing children's interest in education and not to shift their interest and focus on the bicycles at the expense of their education," he said.
He noted that farmers by selling their produce to Kuapa Kokoo Limited – the trading wing of the Union – stand the additional benefit of accessing healthcare service, good drinking water, non-formal education, provision of farm inputs and equipment as well as a bonus package of GhȻ4.00 per bag of cocoa sold to Kuapa.
"Thanks to Divine Chocolate Company, this time round Kuapa Kokoo is focusing on the needs of the children who are our future," stated. Mr. Abrampah Mensah.
He describes the farmers' children as the future of the industry and the local communities, hence the need to invest in their education.
Nana Armah Kofi III, Kontihene of Dadieso, observed the long distances children cover to access schools is a disincentive to learning.
He therefore commended Kuapa Kokoo and Divine Chocolate for the investment in education.
Story by Kofi Adu Domfeh