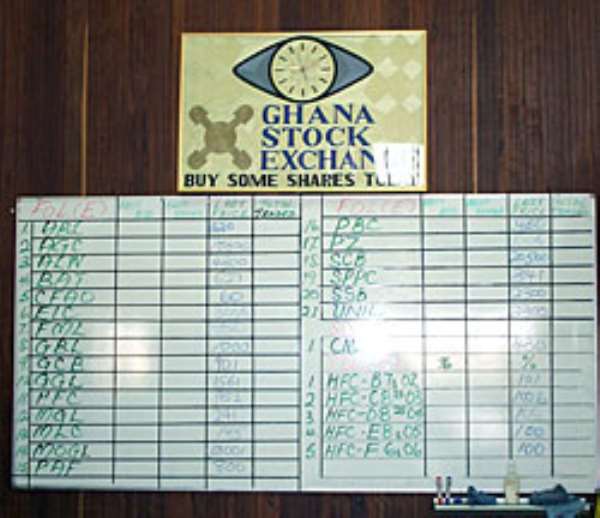 Accra, Aug. 13, GNA - The main index of the Ghana Stock Exchange (GSE) went down again on Friday on another loss by Cocoa Products Company (CPC), the second in one week.
The index lost 16.17 points to close at 7,342.05 points from Wednesday's close of 7,358.22 points.
CPC lost 50 cedis on Monday but recovered the loss on Wednesday. The equity lost 50 cedis on Friday to close at 1,900 cedis. There were three gainers - Clydstone, Enterprise Insurance Company (EIC) and Fan Milk Limited (FML).
Clydstone gained two cedis at 1,602 cedis, EIC rose by 300 cedis at 4,000 cedis and FML inched up by one cedi at 9,501 cedis.
Change for the year was lower at 106.62 per cent from Wednesday's close of 107.07 per cent.
Market capitalisation also ended lower at 97,828.40 billion cedis from 97,863.72 billion cedis.
Total shares traded ended at 99,800
The following are the last prices of listed equities in cedis:
ABL 1,460 AGA 300,000 AADs 3,006 ALW 12,100 BAT 7,800 CFAO 130
CLYD 1,602 +2
CMLT 780
CPC 1,900 -50
EIC 4,000 +300
FML 9,501 +1 GBL 1,500 GCB 16,000 GGL 12,750 HFC 10,100 MGL 275 MLC 3,100 MOGL 36,858 PAF 800 PBC 3,600 PZ 4,015 SCB 140,000 SPPC 390 SG-SSB 31,750 SWL 290 TBL 31,400 UNIL 27,500