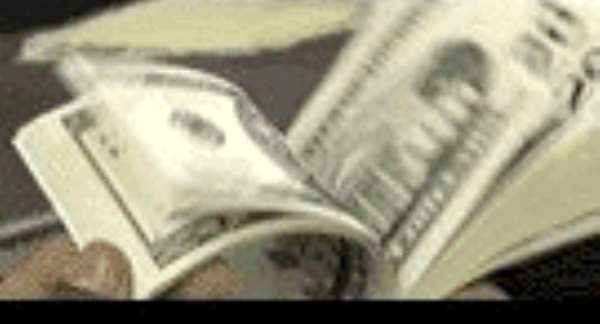 .... In 5 Months Foreign remittances swelled up to about $1billion dollars in the first five months of the year. Sources close to financial institutions in the country say foreign remittances and new investments in projects and businesses have been showing an upward swing for the past four years, an indication of growing confidence in the Ghanaian economy.
They said if the trend continues, the remittances could exceed $2 billion dollars by the end of the year. The sources said from January to May this year, foreign remittances stood at $1,028,347,271.56, as against $2,163,638,797.00 for the whole of 2003. They said before 2001, when the remittances reached $717,268,759, the foreign exchange inflow averaged $400 million.
According to the sources, the remittances for 2002 stood at $1,344,715,280.39.They said prior to 2001, remittances were considered to be the number three foreign exchange earner, after cocoa and gold, and indicated that although the bumper harvest this year would still make cocoa the major foreign exchange earner,foreign remittances could be in contention for the second spot.
The sources also explained that apart from individual remittances, receipts from non-governmental organisations (NGOs), embassies and exporters made up the total remittances.They said certain people had criticised the method for the compilation of the foreign remittances in recent times,arguing that the lack of explanation for the method of compilation did not give a clearer picture of the support of non-resident Ghanaians to the country's economy.
The sources said out of a little over $1 billion foreign remittances for the period January to May this year, about $467.7 million came from non-resident Ghanaians. They argued that whichever way the issue of foreign remittances was looked at, there had been an upswing even for the remittances from individuals to the economy.
Data available to the banks also indicate that more companies are responding to the economic upturn to do business in the country.Although data for the period before 2001 were not made available, the sources said in 2001, 119 new companies were registered, while in 2002, 88 new enterprises were registered.
They said 87 new companies were registered in 2003 while for the first quarter of this year, 20 businesses were registered.Reached for his comment on the upswing in foreign remittances, Mr Asamoah-Boateng, the Co-ordinator of the first-ever successful Homecoming Summit in 2001, recalled the inaugural speech of President J. A. Kufuor in which he encouraged Ghanaians abroad to bring their resources to support the development of the country.
He said Ghanaians abroad had heeded the call, resulting in improved remittances and renewed confidence in the economy. Mr Asamoah-Boateng, who is also a Deputy Minister of Information, said the support being provided by non-resident Ghanaians was an indication that those of them in the Diaspora should be encouraged to be part of the development process.