Statue of Afrikaner hero defaced in new S.Africa attack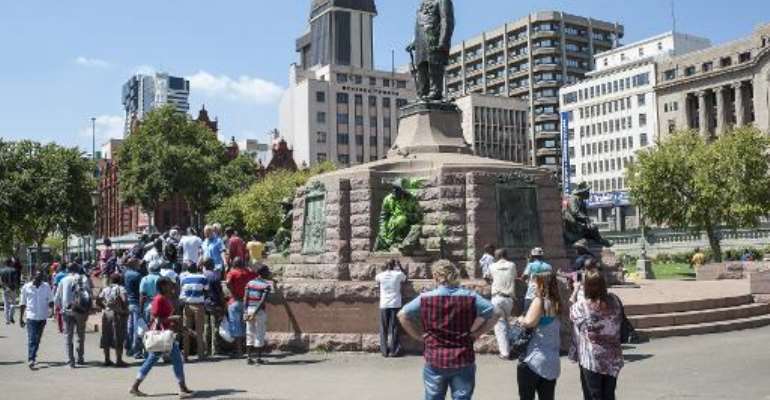 Pretoria (AFP) - A statue of an Afrikaner hero was defaced in South Africa on Sunday, the latest in a series of anti-colonial protests that has forced the country to square its racist past with the spirit of reconciliation championed by Nelson Mandela.
"I wouldn't go up to the Nelson Mandela statue and spoil it with paint," said Jaco Cronje, a businessman standing in front of the paint-splattered statue of the country's fifth president Paul Kruger in Pretoria, the country's administrative capital.
"There's only one word to complete the rainbow nation and that's respect," said Cronje.
A wave of attacks against the country's colonial heritage began in March when young protestors at the University of Cape Town threw excrement at a statue of Cecil Rhodes, eventually forcing the university to remove the statue of the British imperialist.
The protests have gained traction in a country where over 20 years of democracy has yielded little for blacks, who today earn significantly less than whites and are more likely to be unemployed.
Constance Tjale, a 48-year-old waitress at Cafe Riche, a restaurant that looks out on the Kruger statue, showed AFP photos on her mobile phone of people wearing the red shirts of the Economic Freedom Fighters, the third-biggest party in South Africa, splashing the statue with neon green paint on Sunday.
Pretoria's mayor has also voiced support for the protesters calling for the statue to be moved from Church Square.
Kruger led the Afrikaners to victory over the British in the First Boer War of 1881. He is still a hero to the white ethnic group that introduced apartheid, a system of whites-only rule.
"It's just one small painting," said Blessing Manale, spokesman for Mayor Kgosientso Ramokgopa, whose Tshwane municipality includes Pretoria.
Manale said the city is moving forward with pressing criminal charges, but added that the mayor is considering relocating the statue and replacing it with "new" installations.
"What do we do with all these pieces of South African history? We just want it to be balanced," said Ramokgopa.
On Monday morning, a group of girls did a traditional Zulu dance in front of the paint-smeared statue, while others posed for photos.
"People are stupid, or maybe they are bored, they throw paint instead of going to church," said David Mbada, a 53-year-old man dressed in black standing in front of the Kruger statue.
Mbada said that the statue does not offend him. "Things have changed, you don't see blacks and whites as different people, we work together, eat together, go to the same bank," said Mbada.
But, he added, "people associate it with apartheid".