Mali says concept of people of Azawad 'does not exist'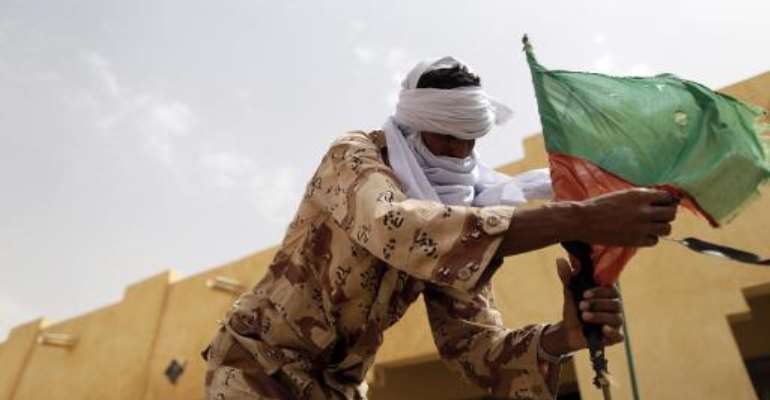 Nouakchott (AFP) - Mali has urged separatist rebels in the north to commit to a peace deal signed by the government several weeks ago, saying their claimed homeland "does not exist".
The Algiers Agreement, hammered out over eight months of tough negotiations, aims to bring a lasting peace to a sprawling area of northern desert that the rebels refer to as "Azawad".
It has been signed by Mali's government and smaller armed groups but Tuareg-led rebels under the banner of the Coordination for the Movements of Azawad (CMA) have sought more talks.
The rebels have been calling for "recognition and compensation by the state of Mali" and "recognition of Azawad as a political, legal and territorial entity".
"The people of Azawad as an entity does not exist. This concept does not exist," Zahbi Ould Sidi Mohamed, Minister of National Reconciliation, said late on Sunday on a trip to neighbouring Mauritania.
The minister was meeting Malian refugees in the capital Nouakchott as part of a campaign to explain the peace accord which will take him to the Mbera refugee camp in southern Mauritania on Monday.
"These movements are currently in Algiers," he said, referring to the rebels yet to sign the document.
"We hope they will face the facts and seize the opportunity of a historic agreement that is inclusive and viable for the first time."
Divided into rival armed factions, plagued by drug trafficking and at the mercy of jihadism, Mali's desert north has struggled for stability since the west African nation gained independence in 1960.
The Mbera camp has housed up to 70,000 Malians who fled the north in 2012-13, when Islamists seized control of the region's main towns and cities before being ousted by a French-led military intervention.
The United Nations High Commissioner for Refugees, which runs the camp, says it expects to house 48,000 refugees this year.