Kenya names law graduate as gunman in student massacre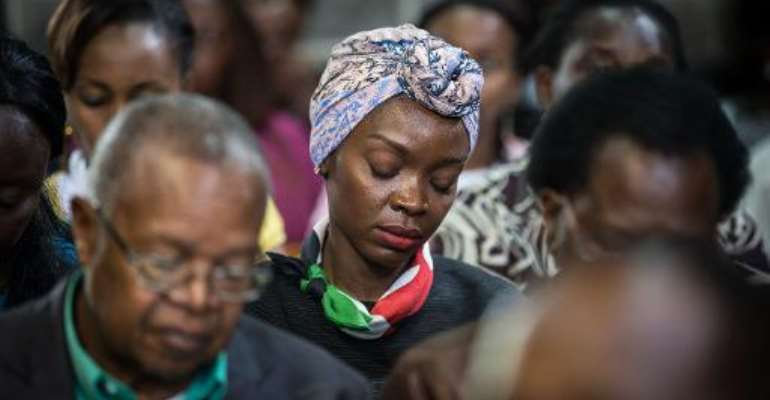 Nairobi (AFP) - Kenya authorities have named one of the gunmen who killed 148 people in a university massacre as an ethnic Somali Kenyan national and law graduate, highlighting the Al-Qaeda-linked Shebab's ability to recruit within the country.
Interior ministry spokesman Mwenda Njoka said high-flying Abdirahim Abdullahi was "a university of Nairobi law graduate and described by a person who knows him well as a brilliant upcoming lawyer".
The spokesman said Abdullahi's father, a local official in the northeastern county of Mandera, had "reported to the authorities that his son had gone missing and suspected the boy had gone to Somalia".
Describing Abdullahi as an A-grade student, Njoka said it was "critical that parents whose children go missing or show tendencies of having been exposed to violent extremism report to authorities".
Kenya entered the second of three days of national mourning on Monday for those killed in last week's massacre, the vast majority of whom were students.
Hundreds had packed Nairobi's Anglican cathedral on Sunday, where Archbishop Eliud Wabukala said Easter services were overshadowed by "great and terrible evil" as police patrolled outside.
"These terrorists want to cause divisions in our society, but we shall tell them, 'You will never prevail'," the archbishop said.
Somalia's Shebab militants attacked the university in the northeastern town of Garissa at dawn on Thursday, lining up non-Muslim students for execution in what President Uhuru Kenyatta described as a "barbaric medieval slaughter".
Although Kenyatta has vowed to retaliate "in the severest way possible", there have also been calls for national unity.
He said people's "justified anger" should not lead to "the victimisation of anyone" -- a clear reference to Kenya's large Muslim and Somali minorities in a country where 80 percent of the population is Christian.
- 'Kenya is at war' -
The massacre, Kenya's deadliest attack since the 1998 bombing of the US embassy in Nairobi, claimed the lives of 142 students, three police officers and three soldiers.
Top Muslim and Christian leaders also offered their condolences.
"Kenya is at war, and we must all stand together," said Hassan Ole Naado, the deputy head of the Supreme Council of Kenya Muslims, saying the organisation was helping to raise money for the funerals of those killed and the medical costs of the scores of wounded.
"We deeply feel the pain of the loss of young lives," he added in a statement, warning that the Shebab was aiming to "create religious conflict".
Pope Francis called the killings "senseless brutality", while the Cairo-based top Sunni Muslim body Al-Azhar has condemned the "terrorist act committed by Somalia's Shebab".
On Saturday, Shebab warned of a "long, gruesome war" unless Kenya withdrew its troops from Somalia, and threatened "another bloodbath".
Hours after the Shebab's warning, police in Garissa paraded four corpses of the gunmen piled on top of each other face down in the back of a pick-up truck.
Five men have also been arrested in connection with the attack, including three "coordinators" captured as they fled towards Somalia, and two others in the university.
The two arrested on campus included a security guard and a Tanzanian found "hiding in the ceiling" and holding grenades, the interior ministry said.
A $215,000 (200,000 euro) bounty has also been offered for alleged Shebab commander Mohamed Mohamud, a former Kenyan teacher said to be the mastermind behind the attack.
The Shebab fled their power base Somalia's capital Mogadishu in 2011, and continue to battle an African Union force, AMISOM, sent to drive them out that includes troops from Burundi, Djibouti, Ethiopia, Kenya and Uganda.
The group has carried out a string of revenge attacks in neighbouring countries, notably Kenya and Uganda, in response to their participation in the AU force.
Shebab fighters also carried out the Westgate shopping mall attack in Nairobi in September 2013, a four-day siege which left at least 67 people dead.
- Security forces criticised -
Forensic investigators aided by foreign experts continued to scour the site, where one student survivor emerged unharmed from a wardrobe Saturday where she had hidden for over two days.
The remaining 600 traumatised student survivors from the now-closed college have since left Garissa, boarding buses for their home towns.
Over 200 family members of those killed continue their agonising wait for the remains of their loved ones at the main mortuary in Nairobi.
One of them was 50-year-old Abraham Koech, who last heard from his daughter when she called him on Thursday saying, "Terrorists have come and I'm hiding under the bed."
Koech said identification of corpses was difficult because the "bullets have deformed the heads" of the victims.
There has been growing criticism in the media that critical intelligence warnings were missed, and that special forces units took seven hours to reach the university, some 365 kilometres (225 miles) from the capital.
Foreign Minister Amina Mohamed defended the response, telling AFP that "fighting terrorism... is like being a goalkeeper. You have 100 saves, and nobody remembers them. They remember that one that went past you."