Al-Shabaab and terrorist insurgencies in Africa; aclarion call for an African Military High Command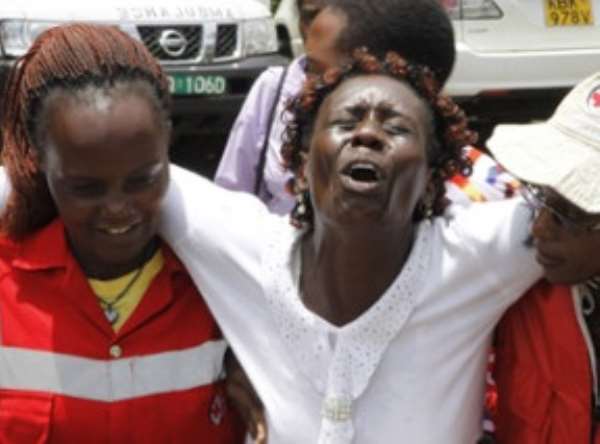 Al-Shabaab and terrorist insurgencies in Africa; a clarion call for an African Military High Command.
SONETCO Institute an ideological think tank which deploys its duties through Education, Information and development sends our condolences to President Uhuru Kenyatta, families of the victims of the Garissa University College bloody massacre and to the entire citizenry of Kenya.
It is so sad that, when we as a continent were almost done with the healing of our wounds of the Eastgate Mall attack where we lost one of our own the late Prof. Kofi Awoonor, these cowards have bruised our wounds again with even a deeper cut.
This barbaric act has betrayed Al-shabab as cowards who are using the name of Prophet Mohammed and Islam as veil to perpetuate their inhumane vampiric blood thirsty mayhem. Why don't they pick on their compatriots, the military?
The increase in the onslaught of terrorist attacks vindicates Osagyefo Dr. Kwame Nkrumah when he made the call to his fellow African leaders to setup an African Military High Command on the 24th of May 1963, he said, "if Africa fails to unite, we shall perish together", and added "if Africa remains as it was politically before independence, all the resentment against colonialism shall be marshaled against the African leadership".
This is what is happening from the actions of Al-Shabab in Somalia/Kenya through Boko Haram in Northern Nigeria to Al-Qaeda affiliates in the Sahelian Magrab covering Niger, Mali, Sudan etc, thus making African Military High Command a must to champion matters of this kind. It's imperative to note that all these terrorist groups have imperialist subliminal support or as offshoot of neo-colonial residue.
This is the time to birth the Africa Military High Command.
We call on our President and Head of ECOWAS H.E. John Dramani Mahama, a comrade who is an ardent Nkrumahist, Pan- African and a Socialist who has gain maximum profound respect among his fellow African Heads of States and within the International Community to lead an action oriented discussion on the dream of Osagyefo for African Military High Command, starting from his ECOWAS bloc, then AU and the other organized bloc in the geopolitics of Africa.
We want to experience swift action-oriented response by our African Heads of States just as we saw in France by President Obama.
We must solve the African problem with African led commitment together with like minded nations in the international arena.
We call on Islamic scholars across the continent to begin a massive counter Islamic teachings and doctrines that will defeat the "brainwash" by these terrorist groups who are perpetuating these heinous crimes against humanity purportedly in the name of Islam and Allah. It is obvious they are not for peace which Islam stands for, and if indeed their actions are for Islamic cause how can they tell that some of the people who died at Eastgate Mall and now Garissa were not Moslems. All hands on deck to root out this "AIDS" in terrorist disguise.
We call also on African citizens to be our own number one security and be a conduit to our security apparatus to blow whistle on such characters, as these crimes persist because we have failed to talk. The security system must also show the way by making sure their whistle blowers are never known.
S.I. sends our deepest condolences once again to families that have had their wounds bruised as well as those who are mourning their dead in this recent barbaric attack.
An African Military High Command is MUST.
Long live SONETCO Institute!
Long live Ghana!
Long live Mama Africa!
Signed:
In Accra, Sunday 5th April, 2015
Eugene Eshun-Elliot- Communication Rep.
0244176795/0504176795