Head of Egypt jihadist group killed: ministry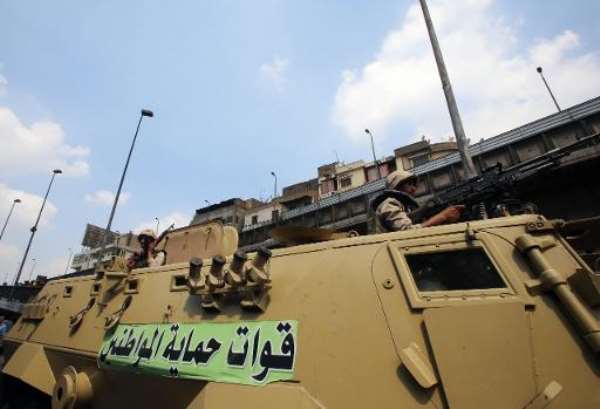 Egyptian security forces deploy at the site of a bomb attack near a checkpoint outside the foreign ministry headquarters in central Cairo on September 21, 2014. By Mohamed el-Shahed (AFP/File)
Cairo (AFP) - Egyptian security forces have killed the head of a jihadist group responsible for deadly attacks on police, an interior ministry statement said Sunday.
It said Hammam Mohamed Attiyah was killed in an exchange of fire with security forces during a raid on an apartment in southern Cairo.
No date for the incident was given, and there was no immediate confirmation from Ajnad Misr (Soldiers of Egypt).
Attiyah's reported death came hours after the group claimed responsibility for a bombing that killed a policeman in an affluent Cairo neighbourhood.
Interior Ministry spokesman General Hani Abdel Latif, describing Attiyah as a "fugitive terrorist", said he was "plotting and preparing to carry out criminal plans".
The statement said Attiyah belonged to the jihadist Ansar Beit al-Maqdis -- now affiliated with the Islamic State group (IS) -- but broke away in 2013 to found Ajnad Misr.
Ajnad Misr "is accused of carrying out 26" attacks on police, mainly in Cairo, that have killed several people, the statement said.
It said security forces acting on a tip-off approached Attiyah's apartment but he opened fire and was killed when gunfire was returned.
An automatic rifle, handgun and four primed bombs were found inside the apartment alongside 18 more explosive devices still being prepared, it added.
Ajnad Misr says it has attacked security forces in retaliation for the deaths of hundreds of Islamist protesters killed in a government crackdown since the ouster of president Mohamed Morsi in July 2013.
It claimed responsibility for bombings outside the presidential palace and foreign ministry that last year killed four policemen, two of them explosives experts.
The jihadist group has said it deliberately uses low-yield bombs to avoid harming passers-by, but there has also been a rise in civilian casualties.
On Sunday two people, including a woman, were wounded when a bomb exploded near a checkpoint on a bridge in the affluent Zamalek neighbourhood, killing a policeman.
Egypt's deadliest militant group, Ansar Beit al-Maqdis -- Partisans of Jerusalem in English -- is based in the restive Sinai Peninsula where it has killed scores of security personnel, including at least 15 soldiers in coordinated attacks on Thursday.
The group changed its name last year to Sinai Province after pledging allegiance to IS, which controls large areas of Iraq and Syria.