C.Africa civil servants moonlight to survive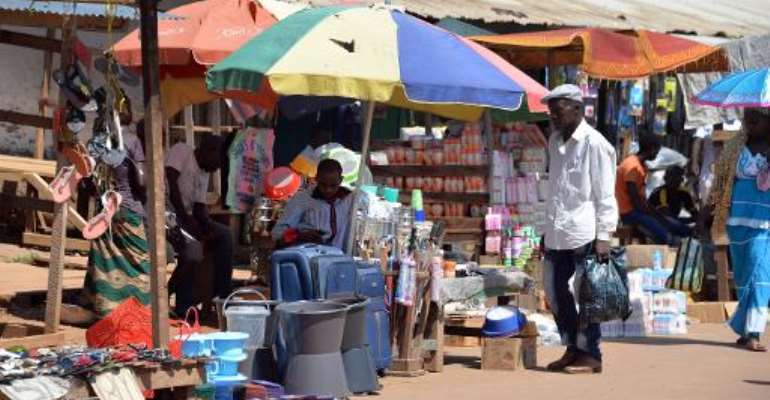 Bangui (Central African Republic) (AFP) - Claude Deba is a computer engineer in a government ministry in restive Central African Republic, but his abysmally low wage means he can't put food on the table unless he moonlights as a farmer.
He grows vegetables, fruit and herbs in the capital Bangui, where an overwhelming majority of state employees, teachers and even doctors have side-jobs to compensate for their poor, erratically-paid salaries.
"Every morning, dozens of traders pass by my house to buy lettuce, cabbage, tomatoes, parsley and everything else that goes into salads and other dishes," Deba told AFP.
"It's better than nothing," he shrugged.
The CAR is struggling to recover from a 2013 coup and an ensuing conflict that took on an unprecedented religious dimension, pitting Christian and Muslim populations against one another.
Now, a transitional government faces the uphill task of rebuilding a shattered administration. But it is almost entirely dependent on foreign funds, and the economy is in ruins.
About half the population live in severe poverty, the UN says, while lawlessness still affects many of the country's regions.
- 'No choice' -
Moonlighting as tradesmen, waiters, hunters, phone card vendors and carpenters doesn't just exhaust the civil servants; it has also devastated the country's services.
"We have no choice," said a doctor in public service who has gone private most of the time, asking not to be named.
"Just think that a doctor earns three or even four times less than colleagues in neighbouring countries. If working in a (private) clinic can help make ends meet, it's an obvious choice," he told AFP.
Patients come to his public health centre as early as 5:00 am (0400 GMT) in the hope of catching him during the first couple of hours after he arrives, because then he moves on into private practice for the rest of the day.
When turned away, "you have to learn patience to come back the next day in hope of an appointment", said Paterne, a schoolboy with a broken leg that has not been properly treated since October.
The World Health Organization reported in March that barely half of the national health clinics are operating and said the sector would need $63 million (58.1 million euros) both to treat conflict victims and provide basic care.
- 'Disastrous for the state' -
Children relying on public schooling for their education are also affected by their teachers' situation.
"I work in a private school from 7:30 in the morning to 1:00 pm, then I teach in a state school between 3:00 pm and 5:00 pm," high school teacher Jules Cesar Mangue said.
"He who pays the piper calls the tune. Those who rely on the state live from hand to mouth."
Anne Mbiki, one of Mangue's pupils, laments his frequent absence.
"He's a very good teacher. Sadly, he only takes our class for two hours a week," she sighed.
For the average state employee, working on the side to make a living is nothing new in a country wracked by coups, misrule and unabashed plunder by its leaders since independence from France in 1960.
"Even before the successive mutinies of 1996-97, a few civil servants saw the need to do something outside public service. But it was a tiny number," sociologist Eloge Ngaite said.
"When wage arrears built up, born of crisis after crisis, everybody started doing it. What they're doing is good, but the consequences are disastrous for the state that employs them," he added.
For some civil servants like Gaston Mendo, an agriculture ministry technician, a second job guarantees an income whenever trouble breaks out.
"After the 1996-1997 mutinies, I started doing some work on yam and pineapple plantations around Sekia (near Bangui)," Mendo said.
When a 2013 coup sparked the inter-religious fighting, Mendo took his whole family to the farm.
"My two wives and children sell our produce in the market, and we manage to make ends meet."