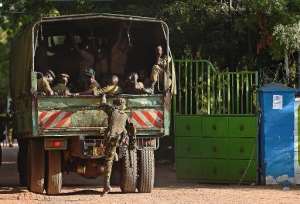 Kenya soldiers enter the Moi University campus of the northeastern town of Garissa on April 3, a day after Shebab militants killed almost 150 students. By Carl De Souza (AFP)
Nairobi (AFP) - Kenyan President Uhuru Kenyatta on Saturday warned Somalia's Al-Qaeda-linked Shebab fighters his government will respond to their killing of almost 150 students in the "severest way" possible.
Condemning the "barbaric medieval slaughter" in his first address since the attack ended on Thursday, the bloodiest assault by the Shebab militants, Kenyatta declared three days of national mourning.
"My administration shall respond in the severest way possible to the attack and any other attack to us," Kenyatta said, in a televised national address from the capital Nairobi.
"Thursday wounded Kenya, Thursday wounded families, friends and communities of the victims of the attack."
The day-long seige on Garissa University, situated near the border with Somalia, claimed 148 lives, including 142 students, three police officers and three soldiers.
The massacre was Kenya's deadliest attack since the 1998 bombing of the US embassy in Nairobi.
Kenyatta's speech, two days after the attack ended, came hours after the militants vowed more strikes against Kenya, in revenge for Nairobi's sending troops into southern Somalia in 2011. Kenya is now fighting alongside the African Union force battling the Shebab.
"We will... stop at nothing to avenge the deaths of our Muslim brothers until your government ceases its oppression and until all Muslim lands are liberated from Kenyan occupation," the Shebab said in a statement released Saturday.
"Until then, Kenyan cities will run red with blood... this will be a long, gruesome war of which you, the Kenyan public, are its first casualties."
Kenyatta however dismissed the threats.
"Despite adversity, we have been -- and always will be -– unbowed and we shall continue to build a strong prosperous and secure nation," he said.
"That is the greatest testament we can offer to those precious departed we have lost."
But Kenyatta also warned that the terrorist masterminds were inside Kenya, not Somalia.
"The planners and financiers of this brutality are deeply embedded in our communities", he said, warning that "radicalisation is happening openly" in Islamic madrassa schools by "rogue" preachers.
"We will not allow them to continue their lives as normal, the full force of the law will be brought to bear with even greater intensity that has been the case in previous years," he added.