140 Suspected Ebola Cases Since March 2014 Tested Negative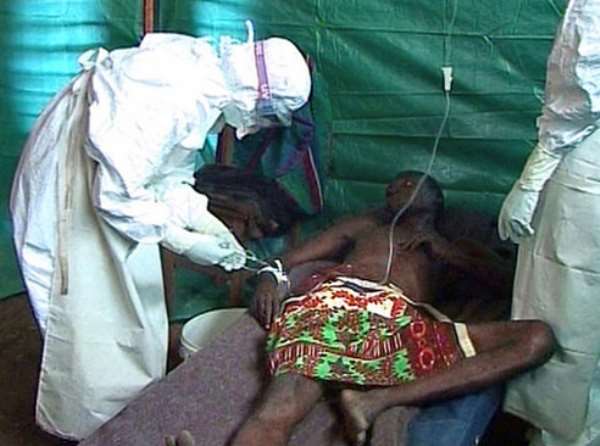 A total of 140 suspected Ebola cases in the country tested between March last year to date at the Noguchi Memorial Institute proved negative, the in-coming Minister of Health, Mr. Alex Segbefia, has said.
He said despite this encouraging situation, the Ebola threat to the country still remains high since Ghana is located in the midst of countries that had recorded cases of the disease with fatalities.
The Minister said this in a speech read on his behalf by Dr .Victor Asare Bampoe, his deputy, at the launch of the National Inter-Faith Ebola Preparedness Programme in Accra on Wednesday.
The programme, which was organised by World Vision Ghana (WVG), was aimed at providing the WVG and its stakeholders with a clear direction that includes emergency response with recovery, and long-term development in perspective.
The Health Minister said the government through the ministry and other related agencies, had put in place a number of preventive, pre-positioning and containment strategies against the possible outbreak of the disease in the country.
Mr. Segbefia said the ministry had approached the situation through a three-pronged strategy of risk communication, social mobilisation and health education.
He said the strategy encompassed disease surveillance systems, screening all passengers, intensive public awareness campaign and setting up of three treatment centres in Accra, Kumasi and Tamale to cater for the infected, in the event that the disease somehow finds its way into the country.
Mr. Segbefia said the government would also engage with various local and international agencies as part of collaborative efforts to fight the disease, in case it emerged in the country.
He said they would educate faith leaders in the communities and equip them with the needed information which they could use in educating people in their communities on how best to prevent the disease.
Mr. Hurbert Charles, National Director of World Vision Ghana, said World Vision has put measures in place to fight against the disease involving churches and other faith communities.
He said some of the measures they have put in place include social mobilisation, pronged strategy of risk communication and health education.
He urged the media and the faith leaders to create more awareness and preparedness, to tackle the prevention of Ebola in the country.