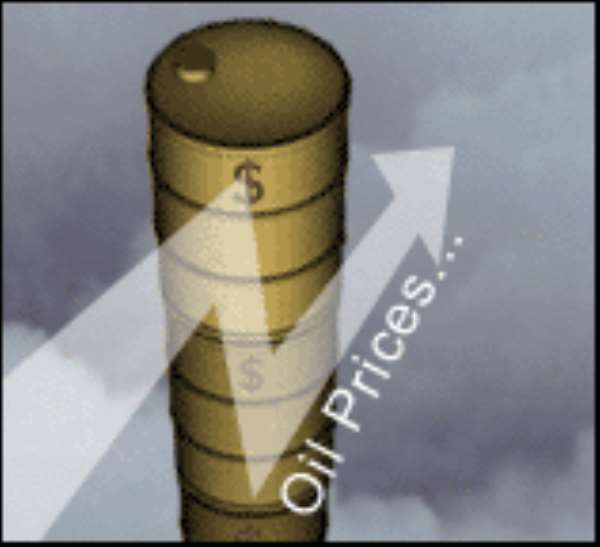 Accra, Aug. 12, GNA - Speakers at the launch of the 2003 State of the Ghanaian Economy Report in Accra have poured cold water on the full ability of the economy to recover if current oil price trends did not recede their flight.
The government's fiscal programme may suffer if government is unable to implement the automatic formula for adjusting petroleum prices.
Government last adjusted prices in February 2002 by 96.4 per cent when crude oil prices hit 32.13 dollars per barrel.
They contended that government could ultimately fail to meet inflation targets and end up rewriting all the economic programmes and targets that it had so far creditably achieved.
The speakers praised government's commitment to meeting single digit inflation at the end of December, but said they hoped government would not resort to expansive expenditure patterns especially with the approach of elections and desire to accept demand side claims by the social sector.
The speakers included, Professor Ernest Aryeetey, Director of the University of Ghana Institute of Statistical Social and Economic Research (ISSER) publishers of the Report, Dr Robert Osei, Research Fellow of the Institute of Economic Affairs and Dr Cletus Dordornu, an Economic Consultant.
Prof. Aryeetey said the continued increase in crude oil prices, which was currently pegged between 44 and 45 dollars, was a source of downside risk to the economy.
"This is against the background that the prices of cocoa and gold have softened relative to last year's prices," he added.
Crude oil prices rose past 44 dollars this month and if petroleum prices usually anchored on petrol prices are not adjusted quickly, government will have to pick up huge bills in the form of continuing subsidies to these sectors.
"The signals are that government is not keen on adjusting prices because of the implications for the cost of living and votes for the December polls," Prof Aryeetey said.
On the fiscal front, Prof. Aryeetey said macroeconomic indicators are pointing to a more stable environment - with inflation rate continuing to slow while interest rates decline, investment, he noted were set to increase with positive impact on savings and economic growth.
He stressed, however, that total revenue targets might not be realised if the performance of revenue items such as VAT in 2003 was anything to go by.
He said, "tax relief measures on import VAT and duties on selected inputs are affecting overall revenue ...it is unlikely that the target for repayment of domestic debt will be met."
On the agricultural sector, Prof Aryeetey said growth of 6.0 per cent is expected in 2004, the highest target set in two decades, but slightly lower than the 6.1 per cent in 2003.
He mentioned factors that could constrain achievement of set targets as including continued heavy dependence on unreliable rainfall and donor funding for 63.8 per cent of budgeted agricultural sector activities.
Prof. Ayeetey said the industrial sector grew by 5.1 per cent in 2003 compared to 4.7 per cent in 2002 but the highest increase among the sub-sectors was the one per cent point increase recorded by the construction.
He said the decline in manufacturing was slight, "but is another indication of how much progress Ghana will have to make towards its vision of middle-income status."
The Director of ISSER said slight drops in the manufacturing growth rate, after an increase in 2002, indicated the persistence of obstacles of growth such as lack of access to credit, unreliable and weak management capacity.
He said electricity generation fell by about 19.1 per cent in 2003 compared to the positive growth of 4.1 per cent in 2002; this decline had a broad impact on economic activity not least the virtual closure of VALCO.
Dr Osei was also upbeat on the ability of the growth of the economy to provide employment especially in the informal sector saying skills training should be paramount for the sector.
He called for the need to have a bigger and more diversified economy capable of meeting the requirements of a growing population and asked government to review the Ghana Poverty Reduction Strategy in line with the Millennium Development Goals of the UN to make current strategies worthwhile.
Dr Dordornu congratulated government for its handling of the economy so far, introducing policies and strategies that had been sidelined by previous administrations.
He, however, called for the introduction of more specific programmes and structures for the private sector.