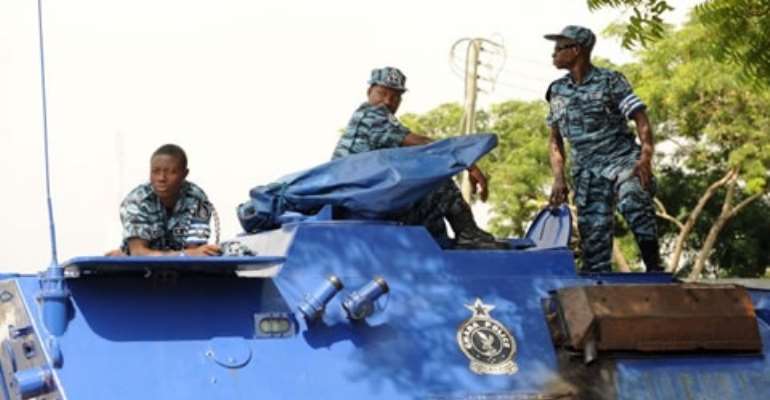 TWO ARMED robbers who are said to have specialised in robbing customers of banks, have been apprehended by the Tema Regional police after allegedly robbing a Universal Merchant Bank (UMB) customer at the Heavy Industrial Area in Tema, Greater Accra Region.
The suspects, Eric Asante, 23 years old and Richard Osei, 29, were busted after they had allegedly attacked and robbed the customer, who was believed to have cashed some money from the bank.
Information gathered indicates that the robbers, usually on board a Toyota Corolla taxi with registration number GT 6536 -12, park in front of banks under the pretext of providing service to customers, only to attack and rob them when they (customers) hire their service.
Assistant Superintendent of Police (ASP) Juliana Obeng, the Public Affairs Manageress of the Tema Regional Police Command, informed a section of the media that the incident occurred at about 8:30 am last Tuesday, March 31, 2015.
According to her, the victim, Samuel Christian Attipoe, was rescued by a police officer stationed at Choice Financial Service at the Heavy Industrial Area.
She explained that some persons who noticed the criminal activities of the two men alerted the police constable, adding that the policeman, armed with such information, monitored the activities of the robbers who had parked in front of the UMB waiting for someone who had cashed money from the financial institution to rob.
Attipoe, who had completed his transaction at the bank, purportedly boarded the taxi and on reaching an intersection of the road, ASP Obeng asserted, he was asked by Richard to surrender his properties at gun point, as the suspects allegedly seized all that he had on him and was ordered to alight.
ASP Juliana Obeng continued that the officer who had noticed the criminal operation, fired gunshots at the back tyre of the cab but the suspects refused to stop and rather increased the speed of the vehicle.
They were given a hot chase by the policeman who took another taxi and with the help of the visibility police personnel, the suspects were rounded up.
Police retrieved two locally manufactured pistols with five live ammunitions, a hood, a wallet containing GH¢85.00, dry leaves suspected to be Indian hemp wrapped in plastic material and Adehyene Savings and Loans booklet, bearing the name Mary Abrefi, when a search was conducted on the vehicle.
From Vincent Kubi, Tema