The Royal Bank Foundation supports Autism Centre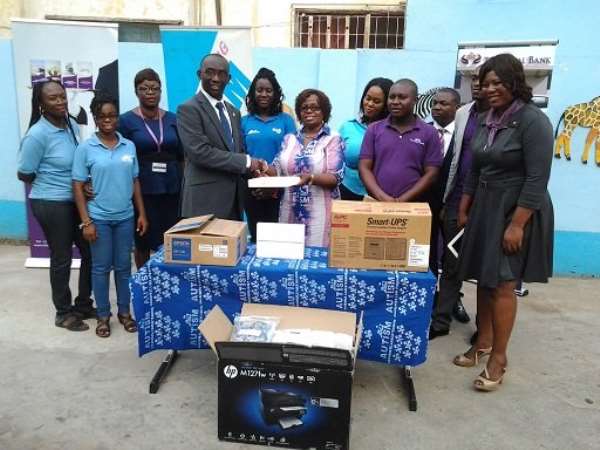 Accra, April 1, GNA - The Royal Bank Foundation has refurbished and donated items at a total cost of GH₵ 20,000 to the Autism Awareness Centre located at Kokomlemle in Accra.
The items included an HP printer, two ipad airs tablets, smart UPS and a projector.
Dr Kwame Baah-Nuakoh, Head of Strategic Planning, Research and Corporate Affairs, who presented the items said the gesture forms part of the Foundation's social corporate responsibility.
He said the main objectives of the Foundation are to give back to society with the focus on health, sanitation and water, education and support for culture and sport.
He said the donation was to support the Centre in its administrative activities in taking care of the inmates and to promote teaching and learning.
He said the presentation also forms part of the Centre's celebration of the World Autism Awareness Day, which falls on April 2.
He said the items worth GH₵ 20,000 include the refurbishment of the inmates playing ground, its sensory room and laying of carpets in the classrooms of the Centre.
Dr Baah-Nuako said the Foundation acted upon a wish list for support presented to management of the Foundation by the Centre.
He assured the management of the Centre that the Foundation would look at other areas in which it could provide support to the school next year.
Mrs Serwaa Quainoo, Executive Director of Autism Awareness Centre, expressed gratitude to the management of the Foundation for the support.
She said the items would go a long way to support the Centre in awareness creation on autism in the country.
Ms Yesutor, the Coordinator for the Centre told the Ghana News Agency that the Centre has about 26 inmates.
She said each inmate is assigned a teacher to provide personal care to the child.
United Nations General Assembly unanimously declared 2 April as World Autism Awareness Day to highlight the need to help improve the quality of life of children and adults, who are affected by autism, so they can lead full and meaningful lives.
This year's event is on the Theme: 'Employment: The Autism Advantage'.
Autism is a lifelong developmental disability that manifests itself during the first three years of life.
It results from a neurological disorder that affects the functioning of the brain, mostly affecting children and adults in many countries irrespective of gender, race or socio-economic status.
GNA