The Medicine For Their Persistent National Headache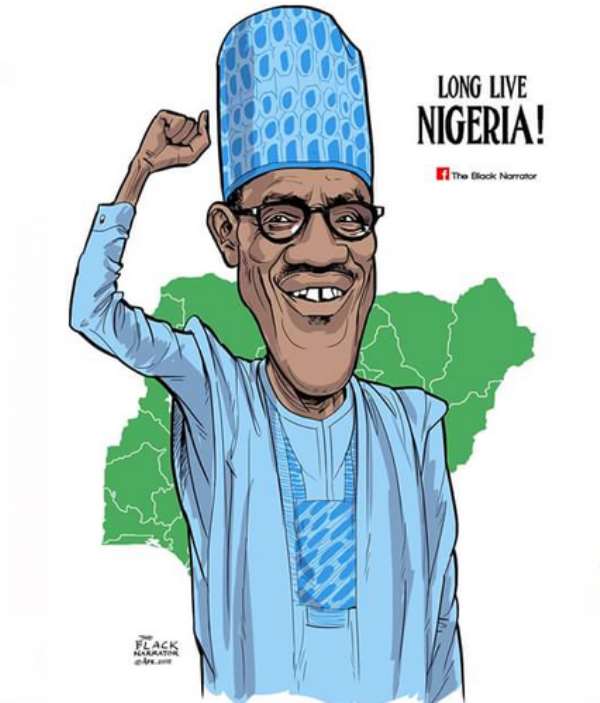 In some of my recent writings, I mentioned a few things that are worth mentioning again, now that the 2015 Presidential election in Nigeria is over. In the article titled "Before the Cock Crows", I noted that if the Jonathan-led government failed, that is, if Jonathan failed in his bid for a second tenure, it would not all be about Jonathan, it would all be about the PDP. It was PDP that was killing Nigeria, not Jonathan.
Right from the onset in 1999 when the mantle of political leadership was handed over to Chief Obasanjo, smarting from his prison release, the foundation was laid to make or mar Nigeria as a democratic country.
Had Obasanjo laid a more solid foundation for democracy to thrive in the country from 1999 by following in the footsteps of his kinsman, Chief Obafemi Awolowo, to turn Nigeria into a Welfare State, given the enormous oil revenue accruing to the nation and the fact that the country had had enough bruises from military rule, Nigerians would not have been in the mess they found themselves.
But Obasanjo failed. And Jonathan could have failed too, because his Godfather laid the foundation of the nation's democratic evolution on porous soil. The fire of discontent was stoked among Nigerian voters when PDP inadvertently refused, or became unable, to politically harness the economic fortune of the country to turn the nation into a Welfare State. Unemployment became rife. Many students in institutions of higher learning committed suicide. Armed robbery and kidnapping became the order of the day. The menace of insurgents became the nightmare of Nigerian citizens.
For 16 years into the 4th Republic, PDP ruled Nigeria. There is no doubt that the party tried its possible best to move the country forward in those years. But its best was not good enough. With time, the level of achievement of the party became controversial, partly because of internal strife. Within the party, there was discontent which began about the time Governor Rotimi Amaechi of Rivers State won the election for a second tenure as Chairman of Nigeria Governors' Forum but was sidetracked by President Jonathan in favour of Air Commodore Jonas Jang, Governor of Plateau State.
It could have mattered that Jonathan, Amaechi and Jang were all members of the same ruling PDP. But somehow, it did not. And so, the crises in the Nigeria Governors' Forum laid the foundation for the demise of the party that once prided itself as the largest and most well organised in Africa.
Nigerians went to the polls to vote in their President on 28 March. Before they cast their votes, it had become necessary for them to look hard at the factors that would build a strong democracy. They knew that democracy was not military rule. They knew that already military interference into the democratic process in Nigeria had done a lot of damage to the nation. They knew that the road to democracy could only lead from a deepening of democratic values. They knew that at the end of the day, only they can place what they value as democratic and that no one else was going to do that for them.
Under Jonathan's watch, trains had been re-introduced into the Nigerian system. Almajiri schools had been built, with the hope that someday, an alumnus of the Almajiri School built by President Jonathan would become the President of Nigeria. Theft in the fertilizer sector had been eradicated. More Federal Universities had been cited in the Northern States. There could have been a lot more that Jonathan bequeathed Nigeria. But as he confessed, he under-utilized the media to showcase the world the achievements he recorded during his tenure.
While Nigerians are ready to forgive him for that, they expressed their hope in the nation's future by overwhelmingly voting for Jonathan's rival, General Buhari, now popularly called "The People's General!"
But before we take a cursory look at the expectations of Nigerians in the new dispensation, it would be necessary that the people themselves recognise Dr. Jonathan as the President who actually laid the foundation of true democracy in Nigeria for Nigerians.
From his days as Vice-President through his years as President, one of Jonathan's major commitments was to stabilise Nigeria by laying the foundation for the conduct of free and fair elections. He was very keen on leaving that feat as a legacy for Nigerians as they march towards true democracy. Indeed, the country has become stable in this respect under Jonathan. Since 2011, it has conducted elections which both Nigerians and foreign observers agree are the most credible in the political history of the country. And as he leaves office, it is only right that Jonathan should feel that a large part of his initial plans for Nigeria was achieved.
Another huge stride Jonathan made in the march of Nigeria towards true democracy was signing the Freedom of Information Bill into law. It was not a matter of coincidence that all the governments that ruled Nigeria from day one, after independence, failed to address this very important issue. It was Jonathan who recognised the importance of this vital aspect of human rights in the nation's march towards true democracy. He encouraged the National Assembly to debate and pass the Bill, and then he assented to it.
Considering the importance of this law in any democratization process, signing the Freedom of Information Bill into law, where other Presidents before him preferred to run their governments in secret, should give Nigerians a better insight into the values of their elected President in the last four years. In the context of directing Nigeria towards attaining true democracy, assenting to that bill alone should place Jonathan head and shoulders above all of those who occupied Aso Rock before him. It wasn't easy.
Many Nigerians heaved a sigh of relief when Jonathan signed the Freedom of Information Act into law. They knew that from then onwards, they could legitimately investigate and uncover facts and figures that relate to governance and public offices. They knew then that President Jonathan had at last made it possible for Nigerians to hold public officers accountable for how public funds were dispensed, under their watch.
Furthermore, signing the bill into law changed the approach of government and government agencies to work, in Nigeria. As one observer said, Nigerians were for once enabled to use the oxygen of information and knowledge - made available by President Jonathan - to breathe life into governance. It was no longer 'business as usual!'"
In all the 55 years since Nigeria became independent, no other President had as much patience or composure as Jonathan had with his fellow Nigerians in the face of name-calling, insults, derogatory languages about him, and even an attack on the Presidential convoy. In many ways, his high office and his education may have humbled him. But Jonathan felt at home with Nigerians. Any other President before him would have hounded those he saw as his detractors into prison and some of them would have died there while in detention. Not Jonathan.
Jonathan often said that he did not want to run after every Nigerian who hurled an insult on him because such a move would only counter the foundation of democracy he was laying for the country. He often said he did not want the Economic and Financial Crimes Commission parading fellow Nigerians on the television unless their cases had gone to court and they had been convicted as criminals. He did not want Nigerian citizens paraded as suspects because parading them before they were convicted was tantamount to a denigration of their human rights.
In that sense, we will be correct to regard Dr. Jonathan as a frontline advocate of Nigerian Human Rights who left his footprints on the sand along the road Nigeria is marching towards true democracy.
Jonathan displayed the true democratic spirit of a statesman when he realised he had lost the election. He quickly picked up his phone and congratulated General Buhari, the President-elect. In this way Jonathan saved the country much bloodshed that would have flowed in the post election violence that marked elections in Nigerian before his debut. It was rare in Nigerian politics, and Nigerians should remain grateful to him for his magnanimity.
Now that Nigerians have changed battens, what would they be expecting from the new government? The incoming President has addressed the nation, reminding Nigerians: "You wanted change. Change has come."
Nigerians did not want change from the university campus to the military barracks. They did not want change for the fun of it. They wanted change from a party that had overruled them for 16 years. They wanted change from a party whose internal crises had made it possible for government not to continue any longer to have the interest of the masses at heart. Now the change has come. And very soon, the new government of APC will be faced with the realities of that situation.
APC will begin to realise that Nigerians care more about what part of the country you come from, not that you are a Nigerian. The party will begin to observe that the commitment of most Nigerians to their local communities has become so much their way of life that to be seen as a de-tribalized Nigerian is now a feat that deserves eulogy. It will begin to see that the people are so beclouded by their ethnic allegiances, the unrelenting pride they attach to their local language and culture, that only a total change of their mindset can get them on the right track to becoming truly Nigerian. That will be the initial challenge of the Buhari Administration, and one that will shape his domestic policies.
Buhari's first challenge will centre on how to get about changing the mindset of an average Nigerian to make him think Nigerian, and not Igbo, Hausa or Yoruba? Where does the government start from?
Nigerians believe Buhari can be trusted to handle that very sensitive national dilemma. They believe he could still summon the military clout that enabled him get Nigerians evolve the monthly Sanitation Day and the idea of queuing up at Banks and Bus Stops to backup the psyche of the people and make Nigerians think Nigerian.
Others say the incoming President was only able to change the attitude of Nigerians at that time because he was in military uniform. They argue that any legislation along that line in a democratic dispensation would have to pass through the procedural rigours of the National Assembly which are likely to mellow or even break its resolve.
Then there is the issue of the judiciary which the new government is expected to address. To remain a united country, every citizen must be guided by the same set of laws. The Southern parts of the country are successfully operating the customary courts. The Northern parts of the country must be able to operate their sharia courts much in the same way as the customary courts operate in the Southern parts. In this way, every citizen would have been given the same opportunity to choose to pursue legitimacy in the nation's higher law courts, or in the lower customary and sharia courts.
As judicial adjudication is made open for citizens to choose what courts they want their cases judged in, there will be a harmonization of the legal system. Anything short of that would be like sitting the nation's ass on a keg of gunpowder, which can explode any time. That, the APC must avoid.
Many observers still believe that the various ethnic groups that Britain lumped together as a country were never meant to be. Some still believe that Britain decided to amalgamate the North and the South for its own selfish economic and political interest. A good number believe that there should have been a plebiscite in 1914 – to give the ethnic groups the leeway for self determination. But Nigeria decides. One hundred years into their amalgamation, they have decided. They have taken a stand for another 100 years.
In distinctively expressing their wish for a change of government with their votes, Nigerians have proved to the world that they desire not only to remain a united, progressive country but also one that eagerly wants to take its rightful place in the comity of democratic nations.
Their expression will not spell victory for Buhari or failure for Jonathan. It will spell victory for APC, and a challenge for PDP.
And while that victory lasts for APC, Nigerians will look forward to what this change would mean for them. With time, they will get to know whether or not the new APC government is the medicine they have waited for so long to drink, to cure their persistent national headache.
Mr. Asinugo is a London-based journalist