Rotary Club of Accra Airport donates to street foundation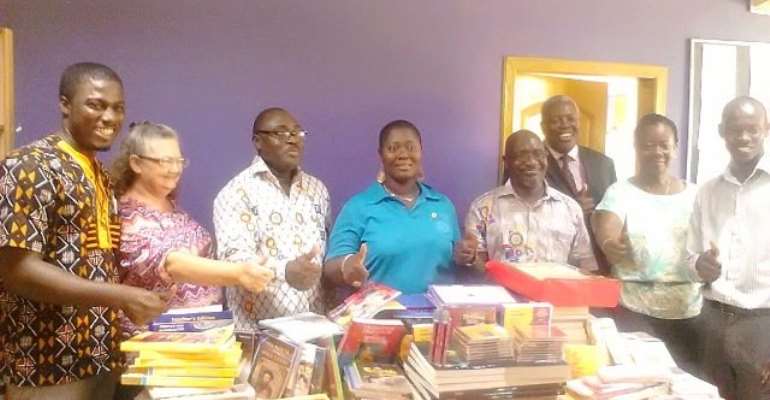 Accra, April 1, GNA - The Rotary Club of Accra Airport has donated many assorted books to the Street Children Empowerment Foundation, a Non-Government Organization in Jamestown to inculcate the habit of reading among children.
The more than 500 books include fiction for basic and senior high schools, African and Ghanaian novels, and text books on a variety of subjects.
Mrs Vivian Abbey, a former President of the Club, said she met a management member of the foundation at a shopping mall in Accra where the children were showcasing their arts works, and after an interaction about the foundation's needs, the Club's management decided to help with the donation.
They were motivated to donate books by their interest in the children and the value they placed on education, she said.
Mr Osei Kwame Agyeman, President of the Club, said the Club was planning to introduce e- learning server-based application for some selected schools by next year as part of their Corporate Social Responsibility.
He said the application when introduced would allow the children and the community to access the information directly related with the school syllabus.
Mr Agyeman said the Club had over the years provided bore holes for the Pantang Hospital, provided biogas facility to a cluster of schools at Adenta, organized debates for school children, as well as polio immunization.
Mr Paul Semeh, Executive Director of the Foundation, thanked the Management of Rotary Club of Accra Airport for the donation, stressing that it would help in improving learning and reading among the students in the Community.
He said the foundation provided a safe and enabling environment for street and other vulnerable children in the community and run activities such as the Read Right Club, Arts Club and Sports Club for the children; and a microfinance programme for their families.        Mr Semeh said the Foundation's vision is to achieve sustainable im­prove­ments in the lives of street and deprived children in James Town, regarded as one of the poor neighborhoods in Accra.
The management of club interacted with the children and read with them as a way to motivate them to learn hard.
GNA