Supporters besiege NPP HQ as leaders sweat over controversial policies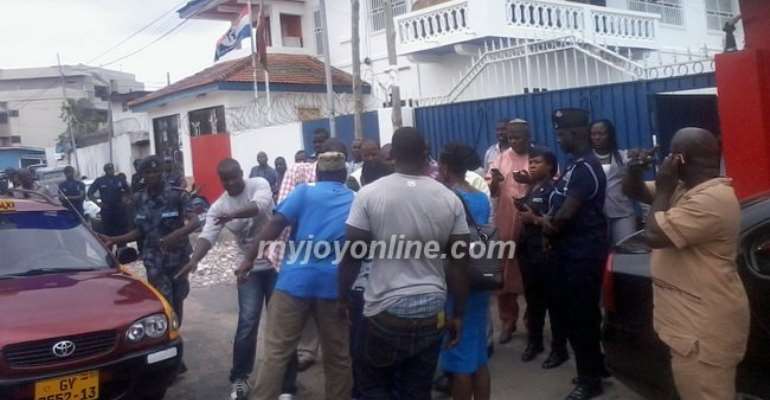 Several splinter groups within the New Patriotic Party (NPP) have amassed at the corridors of the Party's headquarters to mount pressure on party heads who are locked up in a crunch meeting aimed at reassessing the controversial affirmative action policy which has left the party boiling for several weeks.
The supporters refused to leave until the controversial policies are reviewed by the party leaders, Joy News' Kwakye Afreh-Nuamah has reported.
And while the precinct of the headquarters is boiling with a beehive of supporter agitations, the temperature inside the room where the meeting is being held is just as heated.
A highly placed source within the Party and who is present at the meeting has told Afreh-Nuamah there are heated discussions among National Executive Council members in a desperate bid to have the controversial policies reversed.
The Party has known no peace ever since it announced a policy banning men from contesting 16 incumbent women Members of Parliament as well as restricting non-indigenes from contesting along some selected coastal areas in Accra.
The affirmative action policies are to shore up the number of women in Parliament as well as give the opportunity for indigenes to represent their constituencies.
But the policies have widely been criticised, forcing the Party to make a u-turn.
It is no longer a directive as was initially announced. It is now a suggestion with the leaders now engaged in a battle to convince male aspirants nursing ambitions to contest the 16 female MPs to abort such ambitions.
Even that battle has hardly been won. Aggrieved members are threatening court suits against the Party if it does not stand down on the controversial policies.
Majority of the executives taking part in the crunch meeting are said to be seeking a review of the affirmative action on women.
They are however in favour of the policy on the Ga indigenes, Afreh Nuamah has picked up.
It is not clear yet the next line of action open to the Party.