Health service delivery precarious at Sekyere Afram Plains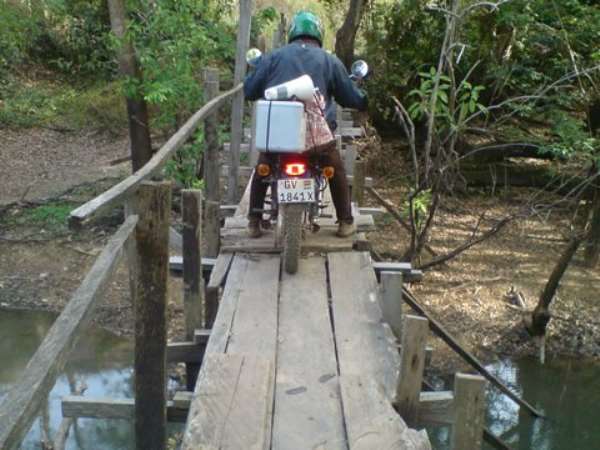 Health workers in the Sekyere Afram Plains District of the Ashanti Region are unable to reach deprived and isolated areas with medical services due to lack of funds.
Although only 650 Ghana cedis is needed every month to fuel the directorate's six rickety motorbikes, four of which are presently off the road, the cash-strapped health directorate is unable to afford it.
District Health Director, Elizabeth Sarfo Adu, describes the development as precarious since residents in remote areas of the district rely only on community outreach for their health needs.
Health worker on a trip to the area
Bad and un-motorable roads is another major problem hampering health service delivery in the Ashanti Region district.
The inability of the health directorate to access remote communities of the district has caused a suspension of immunization of some 1,280 children against polio and measles.
Over 32,000 residents are also at risk of various diseases as drugs and medical supplies are unable to reach key locations.
Currently, only one clinic and two CHIPS compounds cater for over 20,000 people in the south of the newly-created district.
According to the District Health Director, the situation could worsen the high mortality and morbidity rates in the area.
"We are not able to provide the services and the impact is just obvious. If we take immunization; we immunize the children to protect them from childhood illnesses and if we are not able to perform this function, then morbidity and mortality of these children is going to be very high", Ms Sarfo Adu warned.
Communities in the northern section are hardest hit.
These communities are far away from existing facilities located in the south of the district or even outside the Ashanti Region.
With only 14 percent of pregnant women receiving a skilled delivery, many others give birth at home, with attendant complications that sometimes lead to death.
As at 2014, polio, tuberculosis and measles immunization coverage stood at 75, 84 and 76 percent respectively.
Residents in what is known as 'overseas' communities have over the years relied solely on health workers who reach them on motorbikes.
The district health directorate is, however, unable to reach out to the majority of the 110 communities since the beginning of the year.
 District Health Director, Elizabeth Sarfo Adu predicts more deaths especially among children if the funding and resource constraints continue.
Ms. Sarfo Adu wants philanthropists and well meaning Ghanaians to come to support by providing fuel, basic amenities, and motorbikes.
Currently, residents seeking care services have to go to Agogo in neighboring Asante Akyem North District or they would have to trek long distances to Mpraeso and Maaame Krobo in the Eastern Region to get one.
District Chief Executive, Fuseini Donkor, says he is aware of the situation and has promised to intervene soon.