Boko Haram-hit Borno seals fate of Nigeria's Jonathan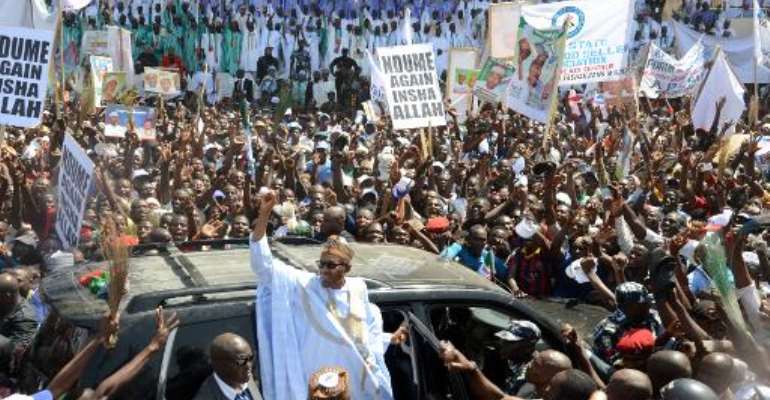 Abuja (AFP) - Borno state in northeast Nigeria, worst-hit by six years of Boko Haram violence, voted overwhelmingly in favour of opposition candidate Muhammadu Buhari, results showed on Tuesday.
The former military ruler, who has accused President Goodluck Jonathan of failing to provide leadership in the insurgency, won 473,543 ballots in the state, or 94 percent of the valid votes cast.
Jonathan, who had been hoping for a political bounce from recent military successes against the Islamists, could only muster 25,640. The final result put Buhari ahead of Jonathan by 2.57 million votes.
Turn-out was understandably low at just over 30 percent, with the state devastated by six years of fighting that has left more than 13,000 dead and some 1.5 million people homeless.
There had been months of wranglings about how to allow people displaced by the violence to vote, with them unable to return to their devastated towns and villages.
Polling stations were eventually set up in and around camps for the displaced, notably in the state capital, Maiduguri.
The vote in favour of Buhari was not a surprise but sealed Jonathan's political fate after four years in office with the conflict and his response to it dominating the election campaign.
Buhari had already won in Yobe and Adamawa, which like Borno, were placed under emergency rule in May 2013, as Jonathan scrambled unsuccessfully to contain the threat.
In Yobe, Jonathan polled 446,265 votes -- 94.2 percent of the total valid votes -- and in Adamawa 374,701 or the 58.9 percent of the ballots.
Buhari also took Bauchi and Gombe, which have been increasingly hit by the militants, including during voting at the weekend, when polling stations were attacked.
Boko Haram leader Abubakar Shekau had vowed to disrupt the election, which the group sees as "un-Islamic", prompting unprecedented security measures at polling stations.