First Lady donates Easter items to children homes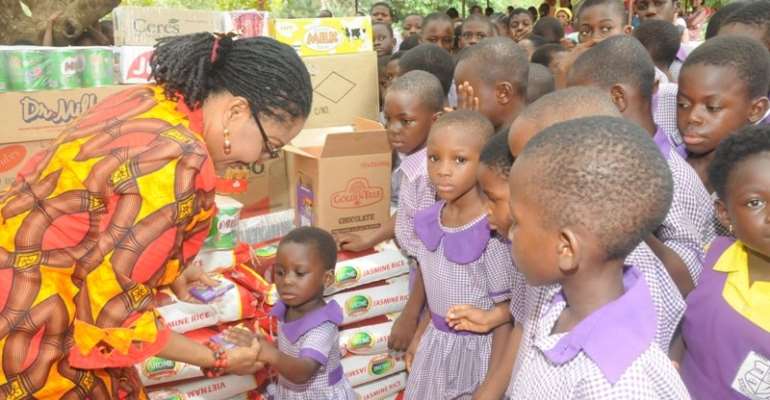 Accra, March 31, GNA - Mrs Lordina Mahama, the First Lady, has donated items to inmates of the Osu and Christ Faith Foster Children's Home to make them enjoy the upcoming Easter celebration.
Mrs. Mahama said Easter is a time to show love, hence the need for her to extend love through the offering of items to the needy such as the children's home.
'I hope this package makes the children feel loved and make them enjoy the season,' she said.
Among the things donated were rice, milk, sugar, drinks, biscuits, and some money.
According to a statement issued in Accra, one of the main focuses of the Lordina Foundation was to help underprivileged children in less developed areas of the country, especially the needy.
It stated that Mrs Mahama through the Foundation has adopted seven orphanages across the country of which the Osu Children's home and Christ Faith Foster Home both in the Greater Accra Region were included.
Madam Sharon Abbey, Mother of the House who received the items on behalf of the staff and the children, expressed their gratitude to Mrs. Mahama for her kind gesture.
The Leadership of the house said the items would go a long way to put a smile on the faces of the children during Easter.
The First Lady inspected a children's block being constructed for toddlers at the home through the Lordina Foundation and under the support of the Ghana Education Trust Fund.
The facility, when completed, would provide housing and classroom for the children.
The contractor assured Mrs Mahama that barring any hitches, the project would be completed by the middle of this year.
Mrs Mahama said she was visiting the children, as part of her commitment in ensuring that they feel loved and cared for, especially during this Easter season.
During her interaction with the children, she commended the staff for doing a good job in caring for their charges, and urged them to continue, since their labour will not be in vain. GNA