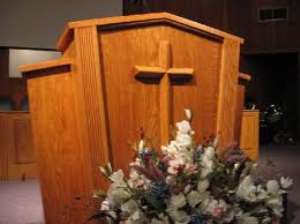 It is an incontrovertible fact that Ghana is a very religious nation. This is attested to by the number of places of worship dotted all over the country and the religious messages that inundate our media both print and electronic. This is also buttressed by the fact that a greater number of Ghanaians thronged various places of worship during the 31st December, 2014 watch night services.
A common question/greeting of "How are you?" will elicit responses such as these: "I am fine by His grace", "By his grace", "The grace is still sufficient for us" etc. Or, "Congratulations on achieving such a feat!" will elicit responses such as "It is by His grace", "It is the doing of the Lord" etc. Where one responds to a greeting without recourse to God, one is looked down with some condescension. All these point to the fact that Ghanaians are very religious, no doubt! Ghana has an international reputation in this regard.
However, one begins to question oneself whether Ghanaians are really that religious considering their actions and inactions just after visiting their various places of worship. In this piece, I will attempt looking at the religiosity of the Ghanaian and the cancerous social evil CORRUPTION.
There is no need defining or explaining what corruption is. It is a term with which almost everyone is conversant/familiar. Neither will I be discussing the effects of corruption; the effects are known to almost everyone including a day old child. His Excellency the president of the Republic of Ghana, John Dramani Mahama, has described this socio-economic evil as mass murder.
The effects of corruption on any society can therefore not be over-emphasised. I will attempt doing what I intend doing; discussing our religiosity and corruption. Corruption is a term that has gained a lot of currency in our recent times. No single day passes without reports on one corruption scandal or the other. Almost every Ghanaian who wants to sound patriotic has waded into the crusade against corruption.
In fact, I am yet to come across a Ghanaian who will tell me he/she is happy with the spate of corruption that has engulfed our dear country; we are all self-professed anti-corruption campaigners/crusaders in our individual ways. We do the little we can to ensure that this canker is reduced to the barest minimum if not completely obliterated.
Here are some nagging questions begging answers: if Ghanaians are very religious as they portray, who are the perpetrators of this heinous evil? If we are all anti- corruption campaigners as we seek to tell the world, who are those behind the various corruption scandals which have hit and continue to hit us hard day in day out?
Are we being hypocritical with our religiosity? Is our religiosity for show off? Is religion a façade to unleash unmitigated and unsuspected harm on our fellow citizens? What are our religious leaders doing about this cancerous canker? Are our religious bodies failing in shaping the morals of the populace? Is religion the safest cloak one can behind to materially and financially lynch our fellow citizens?
It beats my imagination how a religious nation such as ours--better still, a country that portrays to the world that it is religious--can be plunged into this cancerous evil. The grave blunder we make in this regard is equating politics with corruption. In this regard, we tend to focus on the politicians while the 'ordinary' civil/public servant continues to milk us dry. We keep losing the battle because we tend to focus on the politician while the corrupt public/civil servant continues to have a field day—bilking us left, right and centre.
A visit to the Passport Application Centres (PAC), Driver Vehicles Licensing Authority (DVLA) offices etc paints a very disturbing and worrying picture of how corrupt the Ghanaian civil/public servant is/has become. The practice is now so endemic that perpetrators do not hide these nefarious acts any longer; it is undertaken in the full glare of the public. The recent National Service Scheme (NSS) corruption scandal bears ample testimony to what I have been struggling to drum home.
Those who perpetrate these crimes are often those found in the front rows of our various places of worship where they can be seen and accorded undeserved recognition by the sheer fact that they donate financially towards the development of these religious bodies/institutions. Indubitably, they share their loot with these religious bodies that are always eager to receive financial advances damning the sources of the monies. As a matter of fact, we are all complicit in this evil that that tearing us apart while stagnating our advancement as a society because it affects all facets of our lives.
To conclude, we must let our religiosity reflect our daily living. Our religious leaders must up their game; they should refrain from preaching wealth and demanding so much financially and materially from their congregants. Our religious bodies are fixated on the material benefits they derive from their members damning the source of same. How pathetic!!! We shouldn't only act as religious but we must live according to the teachings of our religions. This HYPOCRISY must stop. The fight against corruption must be a holistic one. It starts with YOU and ME.
CHARLES LWANGA SIEWOBR
0242 827 039/ 0502 856 100
[email protected]