Buhari holds Nigeria poll lead but president narrows gap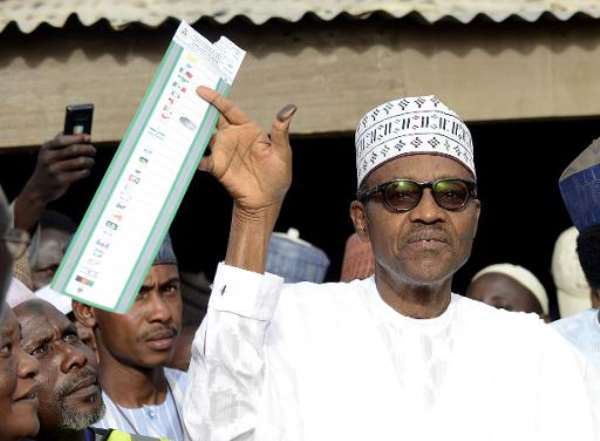 Main opposition All Progressives Congress (APC) presidential candidate Mohammadu Buhari holds up his ballot paper prior to voting in Daura, in northern Nigeria's Katsina State, on March 28, 2015. By Pius Utomi Ekpei (AFP/File)
Abuja (AFP) - Nigeria's opposition leader Muhammadu Buhari on Tuesday won the key prize of Lagos in the country's general election, but his overall lead was narrowed by landslide victories for President Goodluck Jonathan in the southern oil region.
More than two-thirds of Nigeria's 36 states have declared returns in the vote pitting Jonathan against former military ruler Buhari in the closest election ever in Africa's most populous country and biggest economy.
Buhari held a lead of roughly 500,000 votes but appeared to be in a strong position with a number of pro-opposition areas yet to report.
Results are still pending from the northeast states hit hardest by Boko Haram -- Borno and Yobe -- which are expected to overwhelmingly back Buhari.
The opposition leader, making his fourth run at the presidency, has been buoyed by frustration over endemic corruption, criticism over Jonathan's handling of the Boko Haram insurgency and a stronger opposition.
The 72-year-old built an early lead in northern states dominated by the mainly Muslim, Hausa-Fulani ethnic group of which he is a member.
He is likely to gain further ground when a group of states in the northwest deliver returns.
Jonathan has so far won near total support in the southern, oil-producing Niger Delta, taking 98.4 percent in his home state of Bayelsa and 94.9 percent in neighbouring Rivers, where results were disputed by the opposition.
But the win in Lagos in the southwest was a boon for Buhari, with the state seen as a key battleground and countrywide support essential for a win.
There was a brief protest by Jonathan's Peoples Democratic Party (PDP) before the count resumed, with former Niger Delta minister Godsday Orubebe accusing elections chief Attahiru Jega of being "partial" and "selective".
Orubebe claimed Jega had refused to investigate PDP complaints about big wins by Buhari in northern states but had launched a probe into claims by Buhari's All Progressives Congress (APC) of irregularities in Rivers.
Jega said later: "I don't believe that the allegations are substantial enough to require the cancellation or rescheduling of the elections in Rivers state. We will take the results."
- Positive signs for Buhari -
But Buhari may be encouraged by tallies from two northern states, where he stretched his lead over Jonathan compared to four years ago.
In Kano, the 72-year-old defeated Jonathan by nearly 1.7 million votes after besting the president by roughly one million in 2011.
And in Kaduna, where the two ran neck-and-neck in 2011, Buhari won by 650,000 votes.
International observers gave broadly positive reactions to the conduct of the vote, despite late delivery of election materials and technical glitches with new voter authentication devices.
Nigeria's Transition Monitoring Group, which had observers across the country, said: "These issues did not systematically disadvantage any candidate or party."
- US, UK warning -
The PDP and the APC on Sunday traded allegations of vote rigging and other irregularities, raising the possibility of a legal challenge to the results.
Violence has often flared in previous Nigerian elections after the winner is announced and the United States and Britain warned against any "interference" with the count.
"So far, we have seen no evidence of systemic manipulation of the process," US Secretary of State John Kerry and British foreign minister Philip Hammond said in a joint statement Monday.
"But there are disturbing indications that the collation process -- where the votes are finally counted -- may be subject to deliberate political interference."
Kayode Idowu, spokesman for the Independent National Electoral Commission (INEC), told AFP that there was "no evidence of political interference".
- Fears, curfew -
Kaduna, one of the areas worst-affected by violence four years ago when some 1,000 people were killed in post-election clashes, was said to be calm.
Awwal Abdullahi Aliyu, president of the Northern People Unity and Reconciliation Union, warned that places such as Kaduna remained a powderkeg and could "catch fire", particularly if electoral fraud is suspected in any ruling party victory.
Some 2,000 women protesting against the conduct of the elections were teargassed Monday as they tried to converge on the local electoral commission offices in the southern oil city of Port Harcourt.
The protest over alleged vote rigging by the PDP -- and a counter-protest demanding the results hold -- forced the Rivers state government to impose an overnight curfew.
The winning presidential candidate needs not just the most votes but at least 25 percent support in two-thirds of Nigeria's 36 states and the Federal Capital Territory to avoid a run-off.
Voting was pushed into an unscheduled second day Sunday after failures in controversial new technology designed to read biometric identity cards to combat electoral fraud.
Among those affected by the technical hitches was the president himself.