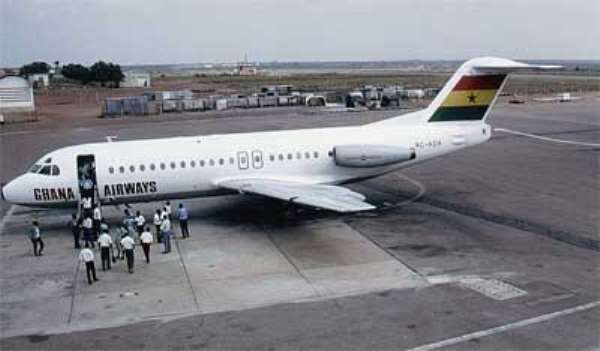 ....passengers arrive from London without luggage Accra, Aug. 11, GNA - The woes of Ghana Airways passengers continue to deepen by the day as stranded passengers in London, who arrived in Accra on Wednesday were told that their luggage did not accompany them. On hearing the announcement, the passengers complained bitterly that they should have been informed in London. The passengers were brought to Accra after Airways Management had managed to secure another following a technical problem on the Ghanair plane that forced the cancellation of flights to London and Dusseldorf. The cancellation led to passengers storming the airport on Sunday, necessitating the intervention of the National Security Coordinator, Mr Francis Poku, who announced that the President had scheduled "a crisis meeting" on the troubled Airline. The majority of the 232 passengers on board Wednesday's chartered Boeing 757 told the Ghana News Agency (GNA) that they had been shuttling between their houses and Heathrow Airport for the past week in an attempt to catch a flight to Ghana but they were turned back with several excuses. Finally, when they were informed of the new departure time they got to Heathrow Airport only to be told that they had to board the plane at Gatwick Airport.
Those who were at Heathrow Airport at the time were ferried by coach to Gatwick Airport while others had to find their own means of transport. A passenger, Ms Grace Norgbe, told the GNA that she had scheduled to spend three weeks in Ghana, but had already spent a week in London. Now, all that she had was a carrier bag containing books.
"I checked in last Friday but anytime I got to the airport I was given an excuse and I had to go back home. I shuttled between my house and the airport at my own cost. Even when I demanded the refund of my ticket they would have none of that."
At the departure hall on Wednesday there was no Ghana Airways official to explain the reason why their luggage did not accompany the passengers.
Meanwhile the Ghana Airways Management has hinted that the baggage should be expected in Accra by Monday.