'Community SHS will have boarding facilities' - Prez Mahama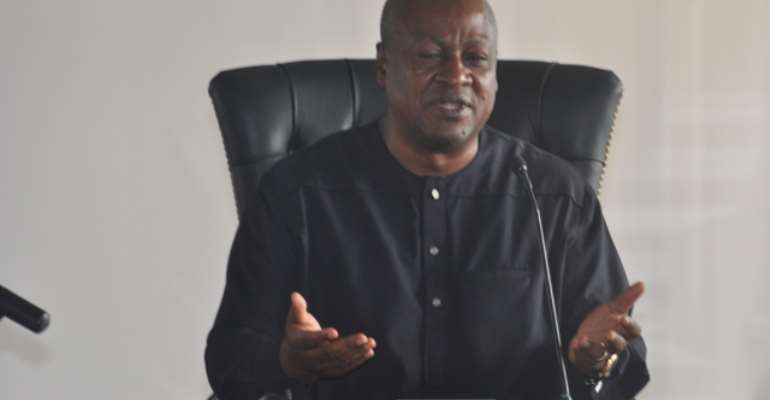 Bamiakor (WR), March 29, GNA - President John Dramani Mahama has indicated that the Community Day Senior (SHS) his administration is constructing would be provided with boarding facilities in future.
He said in the interim, the day schools were meant to absorb the numerous Junior High Schools graduates who do not get the opportunity to gain admission into the existing schools due to inadequate facilities.
President Mahama gave this indication when he visited the Damiakor Community Day Senior High, one of the newly constructed schools in the Nzema East District of the Western Region on Friday.
The Damiakor community school is one of the 50 day schools under construction in deprived communities throughout the country.
President Mahama said the World Bank was sponsoring a total of 23 of the schools, while another consignment of 50 schools to be provided under Government of Ghana budget would begin this year, bringing the total number of schools to 123.
During the 2012 election campaign, John Dramani Mahama promised to construct 200 Community Day Schools during his first four-year tenure of office, so the construction of the 123 schools is part of the government's effort to fulfil that promise.
The Damiokor school, which is about 85 per cent completed, comprises 24 classrooms, Headmaster's bungalow, four Science Laboratories, libraries, and places of convenience, among other facilities.
President Mahama said he would ensure that telecommunication facilities were provided on the school campuses to enhance the effective   teaching of Information and Communications Technology.
Mr Paul Evans Aidoo, Western Regional Minister called on communities in the region to avoid fanning disputes during the siting of development projects.
He said government would continue to play its role responsibly in the provision of infrastructure and social amenities, and that it was incumbent on the communities to facilitate the execution of such projects by providing land and other facilities.
Nana Angama Tu-Agyan, Paramount chief of the Gwira Traditional Area commended President Mahama for constructing one of the schools in the East Nzema area, and appealed for the provision of other support facilities that would make the school fully operational.
GNA