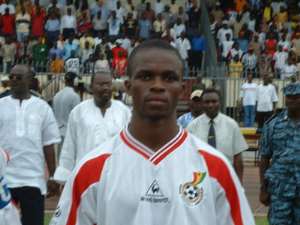 ...In Group B opening Match Thurs Ghana's Black Meteors will hope that history repeats itself on Thursdaay when they face Italy in the Greek city of Volos, in a Group B clash of the Olympic soccer competition, writes Maurice Quansah. The two sides clash once again eight years after the Meteors, handled by Coach Sam Arday, handed Italy a painful 3-2 defeat in a group clash in Washington during the 1996 Olympics in Atlanta.As the Meteors fly the flag of Ghana and spearhead the African challenge, the other African teams will count on their luck for another victory over their European opponents. Not since 1992, when the Meteors won bronze at the Barcelona Olympics, have Ghanaians' confidence in the team reached such all-time high.Sound preparation, abundance of talents and the messianic presence of Coach Mariano Barreto have lifted Ghanaians' confidence in the team's ability to rise to the occasion.
Impressive results recorded in their training tour of Portugal, including a 2-1 victory over European champions, FC Porto, have further buoyed the team's confidence and raised the expectation of Ghanaians, regarding how Barreto has wisely placed his faith in a fine blend of home-based and a sizeable foreign legion, many of whom have tasted big time football in Europe and international glory at FIFA age-group competitions.
The Portuguese has a proven ability to hone the talent into a world-class unit capable of stopping the Azzurinis who have been installed as group favourites on account of their triumph in the European Under-21 championship.
The Italian team, coached by Claudis Gentile, have on their roster such big names as AC Parma captain Matteo Ferrari, Andrea Pirlo and Parma striker Alberto Gilardino who, together, make the Italians such as dreaded side. Eight years ago, the Meteors triumphed over a similar star-studded side and Barreto's charges will not fret at the Italians' reputation of taking games by the scruff of the neck and hanging on to victory.
Ghana's four-man Italian legion — Stephen Appiah, Asamoah Gyan, John Mensah and Sulley Muntari — would offer the team valuable insights into the Italian players with whom they play in the tough Serie A.Despite being Ghana's ray of light in an otherwise gloomy year, Barreto and his charges carry a weight of expectation as Africa has become the dominant force in Olympic soccer since 1996.
The absence of former champions, Nigeria and Cameroun, puts the spotlight on Ghana as the African challenge looks real and thus make Ghana, Mali and Tunisia the target of all teams.As the first African side to win an Olympic medal, nothing short of a final berth will be more rewarding for Ghana. If Barreto manages to guide the Meteors to achieve such an enviable feat, the Portuguese will surely become a cult figure in Ghana.
Their record of no loss in competitive matches under his (Barreto's) guidance is testament to the team's strength in depth. From a high of winning bronze at last year's All Africa Games, the Meteors have won every competitive match and therefore developed a winning mentality.
Italy, quarter-finalist at the 2000 Sydney Olympics, will present a close-nit, compact team capable of keeping their cool under pressure.Like Ghana, they will fancy their chances for a flying start and bulldoze their way through the competition.Ghana will look up to Appiah to produce the inspiration to carry them to victory.