NPP warns Nana Addo over affirmative action …says stop the killer proposal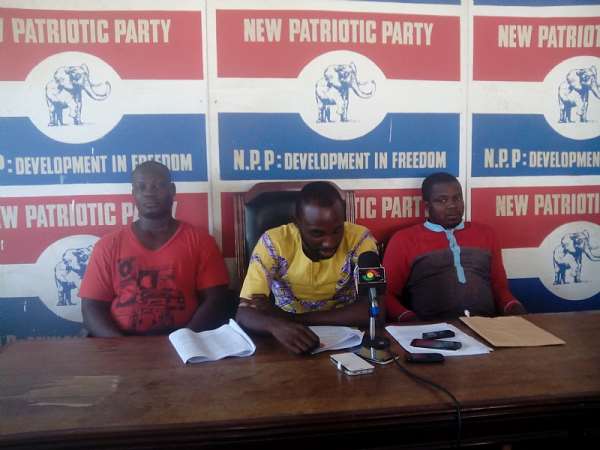 Concerned Polling Station Executives of the New Patriotic Party has described as rambo-style, alien and injurious the decision by their National Executive Council (NEC) to adopt the affirmative action which falls contrary to the rules of the party.
The group has warn the flagbearer of the NPP, Nana Addo Dankwa Akufo-Addo to rescind his decision and withdraw his support of this killer proposal as it may hurt his chances in the 2016 elections.
The Convener of the group, Prince Kissi Yeboah said the move which is styled to deliberately block the chances of future aspirants by protecting some 16 Members of Parliament (MP) and certain constituencies in the Greater Accra Region are illegal.
He noted that the NPP protective policy though illegal and unacceptable as it where, is an antagonistic canker which has the tendency of blurring their fortunes of the party.
According to him, a meeting held by the National Executive Council (NEC) of which the flagbearer, Nana Akuffo Addo was present on 23rd march 2015 took a disingenuous decision to adopt the affirmative action to prevent men from contesting women of the same party or seat.
"Though the call for affirmative action is progressive, we believe the decision on the election of 16 constituencies with female representation is meant to protect some MPs who have become unpopular because of their poor work in Parliament or the constituency," Prince Kissi Yeboah noted.
The Convener, who is an executive member of the group indicated that giving 50% discount to the female aspirants proves how NPP supports women in politics.
Their worry is why would the NEC sacrifice the interest of the party winning the 2016 elections to some MPs who will surely lose their seats when presented to their constituents.
He added that they cannot sacrifice the party's good fortunes for some MPs who keenly contested in their respective constituencies but have become unpopular.
The Convener explained that polling station executive positions are the best approach to increasing women participation in their body politics and such must be done through the power of appointment.
According to him, affirmative action does not happen in a vacuum, but must be seen as a process towards long-term change rather than instantaneous change.
He proposed that all vacant positions be reserved for their women- their checks within the party shows that a lot of constituency executives are resigning to contest as parliamentary candidates.
The group has call on NEC to appoint a woman as Deputy General Secretary and the constituency executive positions.
Prince Kissi Yeboah however commended the party's National Chairman (Paul Afoko), the General Secretary (Kwabena Agyepong), Hon. Kennedy Agyapong, and others who opposed this Rambo-political decision to keep resisting this horror motives.
By Abubakari Seidu Ajarfor, [email protected]