Nigeria Military Reports Taking Over Boko Haram Headquarters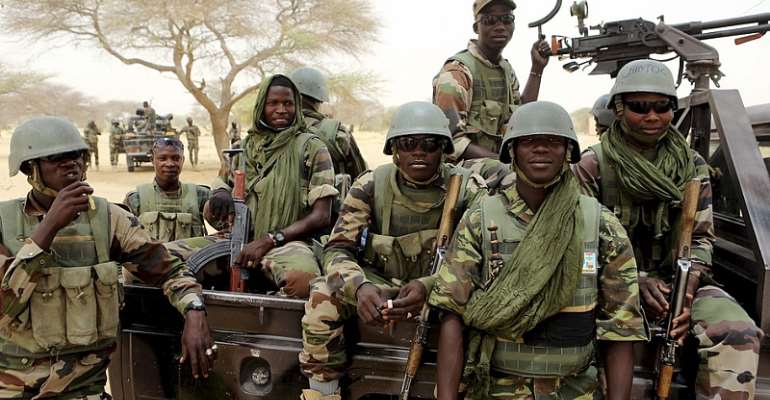 Nigeria Military reports taking Boko Haram headquarters shortly before the election, to announce a big success for Nigeria Armed Forces in the fight against the terrorist group Boko Haram. They are pleased with more success in the fight against the Islams terrorist group Boko Haram.
One day before the presidential election in Nigeria, the armed forces of the West African country claims to have captured the headquarters of the Islams terrorist group Boko Haram. Sponsored by air raids, the soldiers took control of the headquarters of the self-proclaimed holy warriors in the northeastern city Gwoza, the Defence Department announced on Friday, March 27. The claim could however not immediately be independently verified.
The originally planned for mid-February election was postponed at the last moment because of the unstable security situation in the northeast of the country for six weeks. Since then, the Army has reported numerous successes in the fight against Boko Haram. Many Nigerians see this but with scepticism, since the terrorist group in the five years despite many efforts of the Armed Forces had more power and were able to seize territories.
The city Gwozas and three other contested states in the Northeast - Adamawa, Yobe and Borno are freed from the clutches of Boko Haram, claimed military spokesman Chris Olukolade.
They are very thankful for the support of the Armed Forces of the neighbouring countries of Chad, Cameroon and Niger. The military spokesman Olukolade, marked the taking over of Gwozas, as a decisive step to uproot the terrorism in the country.
Boko Haram terrorised Nigeria since 2009. Gwoza is located near the Cameroon border in Borno State. President Goodluck Jonathan said, the capture of the city was imminent. Recently, there had been speculation that Boko Haram leader Abubakar Shekau and his most loyal followers were staying there. Allegedly hostages were aslo kept there, including many of the more than 200 students kidnapped in Chibok last year but no confirmation has been made yet.
Olukolade said, in the battle of the Boko Haram headquarters, several terrorists were killed and many more were arrested. In addition a huge number of ammunition are seized. Boko Haram abducted hundreds of women and children, over 500 women and children.
Nigeria President, Jonathan competes on Saturday to a second term. He is accused by his challenger, Muhammadu Buhari, especially about the slow progress in the fight against Boko Haram.
Buhari stands a good chance in the election, according to some Nigerian political experts but warn, however, Jonathan will probably benefit little more because the voters were wondering why his government is only now decided preceding against Boko Haram.
The Sunni (Boko Haram) fundamentalists terrorised the northeast of the oil-rich Nigeria since 2009 in attacks and have since, at least killed 14,000 people. Approximately 1.5 million Nigerians have fled their home because of the violence.
FRANCIS TAWIAH (Duisburg - Germany)