Massive turnout for NPP demonstration in Bolgatanga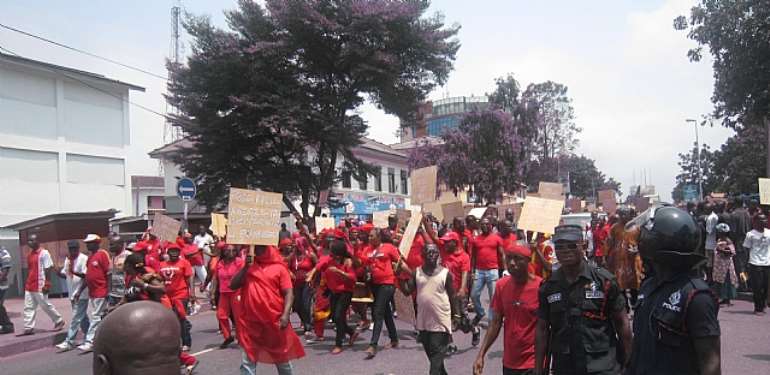 Bolgatanga, Mar 27, GNA - A massive demonstration by party supporters of the New Patriotic Party (NPP) to draw attention to economic hardships in the country was held on Thursday in Bolgatanga, the Upper East regional capital.
The theme for the demonstration, 'La wontumie' in the 'Gurune' language which   literally means, we are suffering, brought together party members from all the constituencies numbering more than 2,000, as well as members of the Party's council of elders in the Region.
They marched through the principal streets of Bolgatanga wielding placards some of which read: 'We are suffering'; 'the hardship is too much'; 'Change is a must in 2016'; 'How can a dead goat be a president' and 'cash and carry is back'.
Other inscriptions on the placards were: 'where is the SADA money'; 'Bawku -Bolga road is a death trap'; 'Where is the tomato factory?'; 'Where is the rice factory?'; 'Where is the sports complex?'; 'School feeding has collapsed' and 'Where is the inland port?'.
Dr Mahamudu Bawumia, vice presidential candidate of the party, who addressed the party members at the Jubillee Park after the over three-hour march, described President John Mahama's government as insensitive to the needs of the people of the country, calling it a 'Wahala government'.
Amidst cheers, Dr Bawumia said though the NDC promised a better Ghana, Ghanaians were suffering.
He called on party members, especially the youth of the country, to vote massively in 2016 for the NPP to come to power and move the country forward, saying that the NDC party was rather moving the country backwards.
Dr Bawumia said, 'we would use the scare resources of the country to move the country forward', and added that NPP was vying for change so all should keep the fire of the party burning.
In a speech Mr Bernard Antwi Boasiako, Ashanti Regional Chairman of the party, who together with other colleagues from the Upper West and Northern regions participated in the demonstration, challenged the Electoral Commission to come out with a more transparent voters register.
He indicated the party would continue to drum home the hardships of Ghanaians and said more of such demonstrations would be carried out if the voters register was not purged of ghost names that thwarted the ' no verification no vote' policy.
Mr Adams Mahama Akalbila, Upper East regional chairman of the party said he was in the party not for personal gains but to ensure change and development. He urged the youth to vote the NPP to power in 2016 for positive change and prosperity.
GNA