Living Bread Ministries to eulogise Founder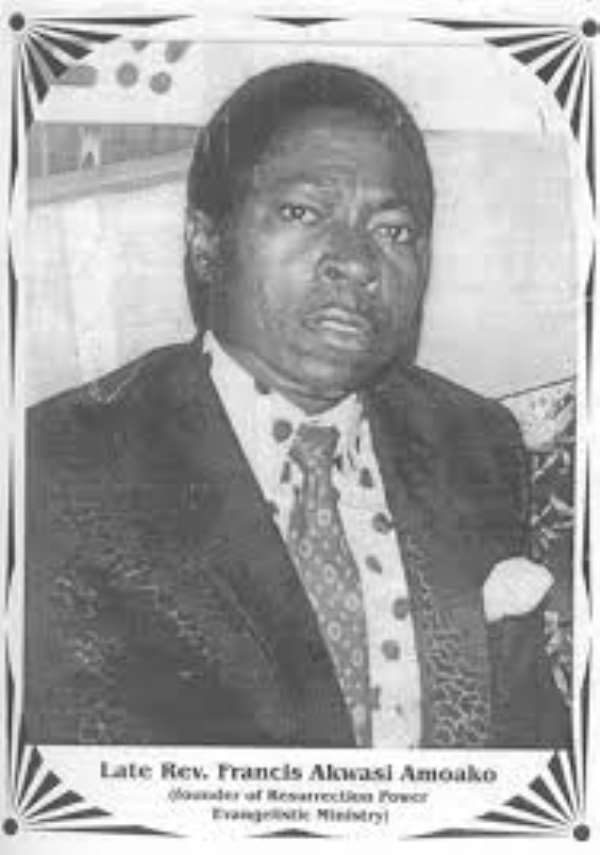 Accra, Mar. 26, GNA - The Resurrection Power and Living Bread Ministries International,   is to erect a monument at Santasi, a suburb of Kumasi,   in memory of the late Reverend Francis Amoako, Founder of the Church, who died some 25 years ago.
The monument which is expected to be completed in September, this year, will be financed through voluntary contributions and fund raising activities.
Bishop Dr Akwasi Asare Bediako, Presiding Bishop and General Overseer, disclosed this at the opening of a three-day crusade which is being held in memory of the late founder.
It is on the theme: ''Remembering the Good Works of Reverend Francis Amoako''.
It forms part of activities marking the Silver Jubilee celebration of the demise of the late Rev. Amoako.
Bishop Dr Bediako described Rev. Amoako as a man whose leadership role made the church what it is today.
He said Rev. Amoako was a selfless person, an astute leader, impartial, and above all, God-fearing.
'At the 25th anniversary of his demise, we deem it necessary to eulogize and honour him posthumously,' he added.
Rev. Dr Yaw Owusu Ansah, Accra West Regional Manager of the Church, also described the late Rev. Amoako as a man of compassion, God-fearing and dedicated.
He said through his leadership    more souls were won for Christ, and that the ''church had lost a man whose demise can never be replaced.'
The Rev. Chief Amonoo, General Administrator of the church, disclosed that it was in the process of acquiring a large tract of land to put up a school, a hospital and a Bible College to cater for the educational and    health needs of the poor and the needy in society, and also train the youth who have received the call of God.
GNA