UN cuts 2,000 troops from DR Congo peace force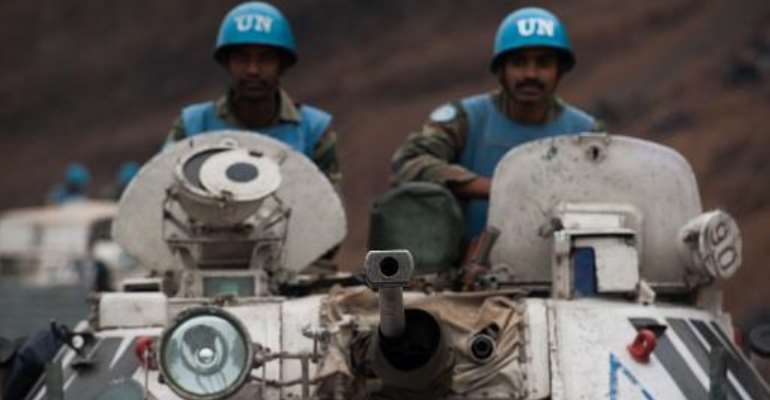 United Nations (United States) (AFP) - The UN Security Council on Thursday voted to cut 2,000 troops from the UN peacekeeping force in the Democratic Republic of Congo despite calls from Kinshasa for a bigger drawdown.
The 15-member council unanimously adopted a resolution that provides for the troop cuts in the 20,000-strong MONUSCO force, the UN's biggest peace operation.
The vote came after Foreign Minister Raymond Tshibanda last week told the council that it was time for Kinshasa to take "full responsibility for its security" after 16 years of UN troop presence in the country.
President Joseph Kabila, who is headed for elections in November 2016, had sought an immediate cut of 6,000 troops and a clear commitment to shut down the UN peace operations in the near future.
Tensions have been rife between Kinshasa and the United Nations over how to deal with rebel groups in the east and security concerns ahead of the elections seen as a test of democracy in the DR Congo.
The resolution drafted by France endorsed a recommendation from UN Secretary General Ban Ki-moon who said the drawdown would not affect the security situation.
The measure renewed MONUSCO's mandate until March 2016 and kept in place an intervention brigade comprised of crack troops from South Africa, Tanzania and Malawi that plays a key role in strengthening the mission.
But the resolution also opened the door to talks on winding down the UN mission, stating that "MONUSCO's exit should be gradual and progressive, tied to specific targets" established by Kinshasa and the United Nations.
MONUSCO has in recent years pushed for the disarming of dozens of rebel groups in the volatile east, most recently the Democratic Forces for the Liberation of Rwanda (FDLR) Hutu militia.
After months of planning with the UN mission for a joint offensive, Congo's military in January announced a unilateral offensive against the FDLR rebels.
That move followed a dispute over the appointment of two Congolese generals to lead the offensive who were on a UN blacklist of human rights violators.
The UN mission withdrew its support to the offensive against the FDLR after Kinshasa refused to sack the two generals.