Egypt stresses Nile water rights in Ethiopia dam project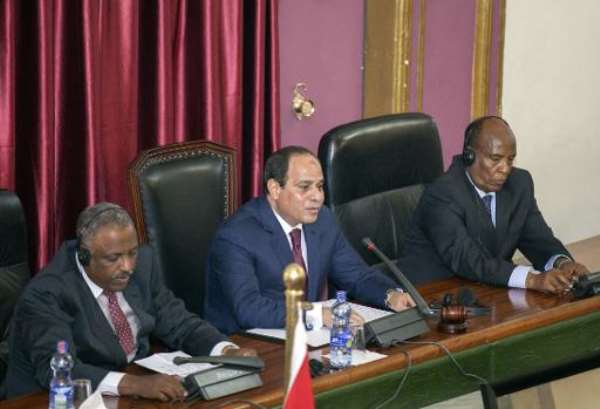 Ethiopian Prime Minister Hailemariam Desalegn (L) listens on as Egyptian President Abdel Fattah Al-Sisi finishes his address to the Ethiopian Parliament on March 25, 2015. By Zacharias Abubeker (AFP)
Addis Ababa (AFP) - Egypt's president called Wednesday for a "new chapter" in relations with Ethiopia, but nevertheless underscored his country's insistence on standing by its rights to tap Nile water.
Egyptian President Abdel Fattah al-Sisi's speech to the Ethiopian parliament marked the end of the first such official visit by an Egyptian leader in 30 years, and comes amid a major easing of tensions over Addis Ababa's controversial Nile dam project.
"I invite you today to jointly lay the foundations of a better future for our children and grandchildren, a future where all the classrooms in Ethiopia are lit and all the children of Egypt can drink from the River Nile as their fathers and grandfathers did," Sisi told Ethiopian deputies.
Ethiopia began diverting the Blue Nile in May 2013 to build the 6,000 megawatt dam, which will be Africa's largest when completed in 2017.
Egypt, which is almost totally reliant on the Nile for agriculture and drinking water, fears the Grand Renaissance Dam will hit its water supply.
Ethiopia had said the project would not adversely affect Egypt's share of Nile water, but Egypt had maintained its "historic rights" to the Nile, which it said were guaranteed by treaties from 1929 and 1959. These grant it 87 percent of the river's flow, as well as the power to veto upstream projects.
But on Monday, the two countries, along with Sudan, signed an agreement of principles on the dam, with the signatories promising "not to damage the interests of other states".
While the agreement signifies a sharp drop in tensions, Sisi nevertheless signalled that his country's underlying concerns remained even though he recognised upstream Ethiopia's "right to development".
He said Egypt "also has a right to development," pointing out that the Nile "remains (our) sole source of water".