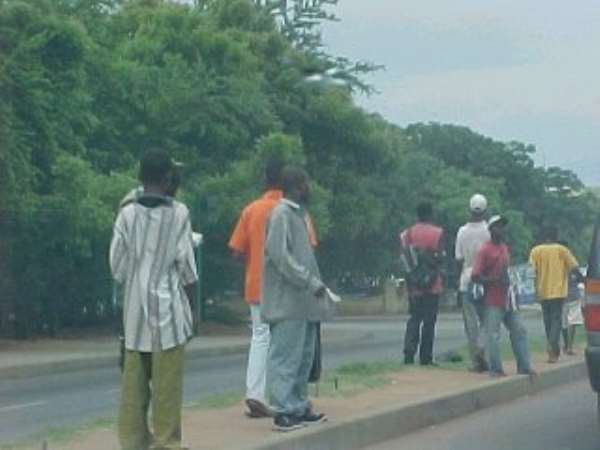 ONE of President Kufuor's numerous campaign promises in election 2000 had to do with the issue of streetism in our metropolitan areas, especially in Accra. Such promises have not been fulfilled; the problem is rather compounded.
During the campaign period, when asked about what his administration would do in its first 100 days' in office, President Kufuor told a tall story that his first 100 days in office will see the creation of about 100,000 jobs for the unemployed.
Strangely, however the New Patriotic Party (NPP) administration claims to have kept its word and created jobs for the youth, in the face of mounting number of street children and hawkers in most metropolitan areas especially in Accra.
"Ghana Palaver" went out to have a chat with some of these people, who risk their lives by their activities, sometimes in the middle of the streets. The following are our findings:
Kojo Owusu, a 20-year old pesticide (cockroach commando and ekuwra police) seller who hails from Konongo Akyiase, in Ashanti but lives at Odorkor, had this to say: "I went and had my name registered at the Tetteh Quarshie Roundabout in Accra, when President Kufuor told us that he would provide us with jobs and that we must register first".
Asked why he was not working but still running around in the street selling?, he said, "The government has really deceived and disappointed most of us because the jobs have not been provided."
Posed with a question, as to what he would have learnt as "trade and the dangerous nature of his present 'business', Kojo had this to say:
"Yes, at times we get sick with some even getting knocked down by moving vehicles, but we have no other choice. Moreover, one has to eat, you see! and I would have learnt carpentry".
Kojo Owusu is a Junior Secondary School (JSS) leaver and sells at the National Theatre area.
Kofi Appiah, 18-year-old, also a pesticide seller, told his story: "I completed JSS not quite long ago and as a result of the economic hardships put on Ghanaians by the government, my parents could not afford to send me (up) further, so I came to live with my brother (Kojo Owusu) and started selling these items on the street.
Asked as to what job he would love to learn and his opinion of the government?, Kofi said "it is unfortunate that I did not register and even if I had, the jobs still would not have been provided anyway, adding that he would have loved to learn welding".
According to Kofi, the government made a lot of job oriented promises in 2000 but upon assuming office, the only jobs the Kufuor government is providing are luxurious jobs for his relations and family members".
A 25-year-old apple seller at the Mallam junction, who gave her name as only Afia had this to say "Kufuor's government promised us jobs and as a result I personally voted for him, but now I have regretted ever doing so".
Asked why the regret, Afia continued that "that government has failed the entire nation in everything that it does". She broke into twi "loan a okaase okegye no, amba, (referring to the IFC loan.)
To wit, she said the government's bid to secure a loan had failed; the promised jobs have not come but the only thing it has succeeded in doing is to increase prices of petrol and the Value Added Tax (VAT), which has resulted in subsequent increases in prices of goods and services and thus imposing more economic hardships.
Nana Ama is a 31-year-old from Manyo Krobo with four children. She sells biscuits, groundnuts toffees, gums etc at the Mallam Junction. She told us. "Let the Kufuor government know that it is making some of us pass through hell".
He asked why such a statement, she quipped: "previously, I used to send my four children to school. However when school fees shot up, VAT increased and all my money for trading were used up."
"Me sika nyinara asei", she also added in Twi.
"Now the children are no longer schooling because I cannot afford the cost involved and my husband too is jobless but we have to eat that is why I have taken to the street selling".
"At times my profit for a day is only ¢8000 which is insufficient for the whole family so we starve". This is was her answer to a question as to how much profit she makes in a day.
Asked whether she registered for employment or not, she said:
"Yes, my husband and I went to the Tetteh Quarshie area to register. But now, tell me, of what use has that registration been to us since we are still jobless."
Upon hearing a male voice shout this "kakyere aban no de onye biribi kakra mma hen na ye re bre," literally meaning tell the government to do something about our plight for we are suffering, I approached the fellow but he was not ready to speak to me .