Sharing water with animals- the Atebubu story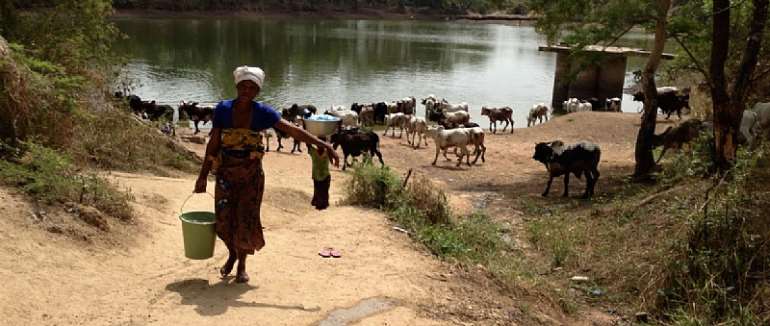 Atebubu in the Brong Ahafo region has seen an increase in water-related diseases over the past year resulting in the death of some residents, majority being children.
Health officials warn the situation could escalate as residents continue to fetch and use untreated and unwholesome water which they share with cattle and other animals from contaminated river sources in the area.
Medical Officer and Clinical Coordinator at Atebubu District Hospital, Dr. Rahman Quantson who expresses worry over the situation says the area has been recording an upsurge in water-borne diseases especially cholera last year.
"Last year for instance there was a surge in cases. We even recorded some mortality as a result. The situation is bad, we have been educating them and hope things get better" worried Dr. Quantson revealed.
Typhoid, gastro hemorrhagic fevers and cholera top the list of water-related conditions plaguing residents in the area.
"There is quite an increase in typhoid, gastro hemorrhagic fevers and cholera. These conditions are purely from contaminated water" Dr. Quantson said.
Residents have resorted to fetching water from a stagnant pond they refer to as a "dam" for both domestic and commercial use.
Running water carries mud and other debris including human excreta into the stream especially when it rains as some residents attend nature's call openly nearby. But residents have no choice.
Though the local assembly provided the Atebubu community with boreholes, they are ineffective with almost all of them broken down.
The 'dam' now has to meet high demands of humans who need it for drinking, washing and also to nourish their crops and livestock as well.
Though residents say they are aware of the implications of the use of the untreated water, there is little they can do.
Akosua Bofa who has been bathing her one year daughter directly in the dam tells me she knows the consequences.
"I know my daughter can get sick but we have no options" Bofah said.
According to the Ghana WASH Project, one out of four people in rural communities in Ghana have no access safe drinking water.
The Water Sector Monitoring Platform puts coverage rate for water in rural Ghana at about 63.7 percent as at 2013.
But the situation is even worse in Atebubu where water is a scarce commodity for almost the entire predominantly farming community. Residents spend at least Gh4 on each "Kuffuor gallon" of untreated water bought from private water trucks.
One of the busiest suppliers is Seidu Ibrahim Baba Gida who spends all day selling unwholesome water to residents in the water tanker truck.
"Looking at the colour of the water I know it is dangerous to their [residents] health but that is the only source of water. People fill their poly tanks with it. Chop bar operators who are major clients buy from us" Baba Gida said.
For residents, only a miracle can save them from their current precarious situation whilst health authorities are becoming increasingly worried.
Officials of the District Assembly were not available for comment during the visit.
STORY BY PRINCE APPIAH/LUV FM