British Airways appoints new Commercial Manager for Ghana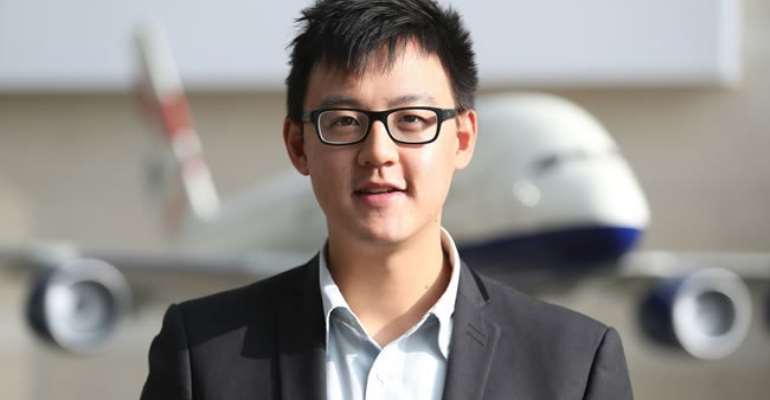 British Airways (BA) has announced the appointment of Mr. Kevin Leung as the new Commercial Manager for its Ghana operations.
Mr. Leung took over from Moran Birger on March 1, 2015, who is taking up a new role as Regional Commercial Manager for British Airways in South Asia; overseeing India, Pakistan, Bangladesh, Maldives, Nepal, and Sri Lanka.
Kevin Leung is a graduate of University College London (Geography) and London School of Economics, where he obtained a Masters Degree in Health, Population and Society.
He brings nearly three years of experience in British Airways' Planning, Customer Service and Sales Development departments to the new role in Ghana.
Kola Olayinka, British Airways Regional Commercial Manager for West Africa, feels "galvanized" about "British Airways new generation. "Over the past few years, we have invested over £5bn in new aircraft, products, services and most importantly, people.
These young men, Moran and Kevin, are just as efficient, important and exciting for our future as our new Boeing 787s and Airbus A380s," he says.
Leung actually worked on the inflight Customer Experience Business Planning and Performance projects, which ensured the smooth and successful introduction of these new aircraft.
The project also involved planning cabin crew onboard processes and implementing onboard recycling initiatives.
He also has worked on optimising BA's global network, specifically in Africa and the Middle East as well as in a Sales Development role on BA's joint business with Japan Airlines and Finnair.
Leung feels "very fortunate" to be joining the Ghana team at this stage – "Ghana is one of BA's most important routes, and our experts recently ranked it as one of the top places in the world to visit.
We've been here for nearly 80 years and we are very optimistic about the future here, and I am personally honoured to be taking up this new role" Leung explains.
At 77 years as of last October, British Airways is the longest serving passenger airline in Ghana and also operates the largest commercial passenger airline out of the country, a Boeing 747 Jumbo.
Last year BA increased its capacity on the route and ran a series of low airfare offers to celebrate their special relationship with the country.
Moran Birger described his time in Ghana as "absolutely amazing," as he recounted his past 18 months in the role. "It's rather bittersweet because I am excited about the new opportunities ahead, but I am very sad to be leaving Ghana. You cannot imagine how much I will miss its warmth and the food. But most of all, I will miss the people – our office is always filled with so much laughter and Kevin is lucky to have such a great team to work with." 
Kevin Leung says British Airways is committed to Ghana will continue to support the country as it has in recent years. "We will continue to show appreciation to our customers with amazing offers, and maintain our exceptional levels of customer service and innovation. We also have plans to support youth development and SME businesses this year, and I am very much looking forward to a remarkable time here."