Japan grapples to ready Sudan wrestlers for Olympics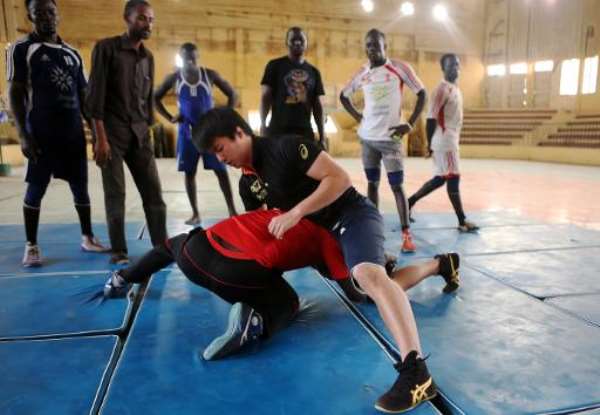 Japanese coach Kosuke Sunagawa (R) demonstrates a wrestling hold during his last training session in Khartoum. By Ashraf Shazly (AFP/File)
Khartoum (AFP) - In a crumbling Khartoum sports hall, a dozen Nuba men in sweat-faded singlets practise wrestling moves under the critical gaze of their Japanese coach, 23-year old Kosuke Sunagawa.
Wrestling has been a part of the religiously and ethnically diverse Nuba culture for millennia, and many of the sinewy young athletes entered the ring as soon as they were old enough to walk.
But coach Suna, as he is known, a Japanese youth wrestling champion, has been tasked by his country's Khartoum embassy with delivering a first in Nuba history –- building a medal-winning Olympic team in time for Tokyo 2020.
The wrestlers "really have excellent physical strength," the stern-faced coach says, but little else has worked in their favour.
Behind him in the sweltering hall, two wrestlers grappled as their colleagues watched silently, eager to glean new skills.
Olympic wrestling is well-established in Japan, which has won a rash of medals at recent games.
But Tokyo's interest in Nuba wrestling started in 2013, when a diplomat from its embassy challenged some of the local champions.
Yasuhiro Murotatsu lost all six of his matches but the bouts proved popular, attracting hundreds of spectators.
Japan seized on the interest he created to try to build ties with a country it sees as a relatively stable island in a tumultuous region.
The embassy sees the $50,000 (46,300 euro) it has put up as worthwhile -- an easy way to connect with a government wary of foreign influence.
But Suna's task is no small order. Sudan has won just one Olympic medal since 1960, and while Suna's squad members have wrestled since they could walk, the Olympic rules are new to them.
In Nuba wrestling, played in sandy arenas, a competitor wins simply by throwing his opponent to the ground.
The Olympic version awards points for different moves, and a player wins automatically by pinning his opponent to the mat.
"I am exerting every effort to unlock their potential as much as possible through creating tailor-made programs," Sunagawa said at the session, the last of his month-long visit to Khartoum in February.
- Nuba wrestling in Japan -
Six of the best –- four players and two trainee coaches -– will travel to Japan in April for training but much needs to be done to nurture a full team.
Suna first visited in November. Things went well and he returned to Japan at the end of the month.
When he returned in February he found many had stopped training.
The Nuba in Khartoum originally come from Sudan's war-torn South Kordofan region, which was devastated by Sudan's 22-year civil war and then hit with an insurgency in 2011, when former rebels complained they were being marginalised by the Arab-dominated government.
The students had to return to work to support themselves, making it difficult to find time for wrestling.
"There is a lack of adequate training; there is a lack of facilities," said Ahmed Hashim, secretary general of Sudan's Olympic committee, as he watched the practice.
"All that we have is very old traditional Nuba wrestling."
Half the windows in the hall are smashed and there is no air conditioning, but it is the best facility the embassy and Sudan's wrestling federation could find.
Yet Hashim has high hopes.
His first goal is just to qualify for the Olympics -- either Rio de Janeiro in 2016 or Tokyo in 2020.
"The long term target is to have wrestling as an established sport which will be continuously running for medals."
- Wrestling for peace -
Diplomat Masayuki Sorimachi said the programme wasn't just about Sudan winning medals or Japan building ties, but improving troubled community relations inside Sudan.
"People can get united together through doing sports, so maybe this could represent a symbol of the peace and stability and unity of the Sudanese people," he said, watching as Suna finished up his final session.
And for the wrestlers, the programme is a chance to develop skills they have learnt since childhood, first watching champions in the southern Khartoum neighbourhood of Hajj Yousif.
The down-at-heel suburb is home to Khartoum's wrestling ring, a patch of sand surrounded on Fridays by crowds cheering on champions as they tussle and kick up clouds of dust.
Sitting ringside two days after the final training session was one of Suna's students, Wissam Mohammed, an 18-year-old local butcher who has been picked to travel to Japan because of his skill and strength.
"The Japanese came here and trained us and gave us some skills, and we benefitted from these," he said.
"I want to participate in the 2020 Olympics. If God wills it I will bring back a bronze medal and raise the flag of Sudan," he said.