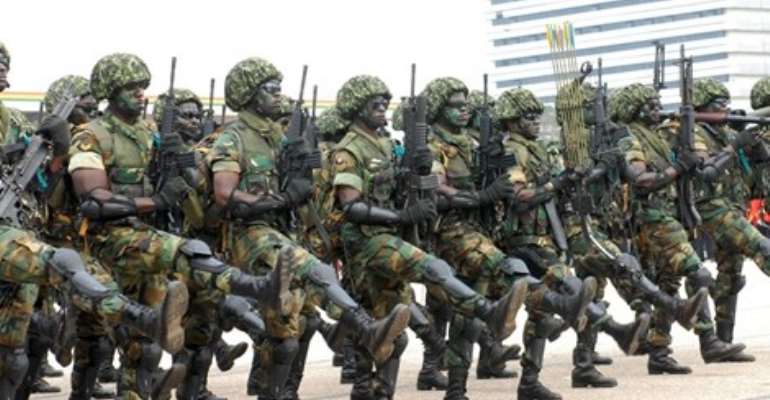 The land contagion associated with many politicians on the corridors of power appears to have infected the military somewhat. Last week the media terrain was awash with an alert from some concerned retired military officers about a crazy land sale, affecting the defence institution's property.
The reasons advanced by a Lt Col at the Public Relations Directorate of the military regarding the subject sounded as unconvincing as it was outlandish.
Stopping short of describing the concerns as mendacious, he landed on the following, though not his exact words: 'it is a Private Public Partnership (PPP) arrangement intended to release some military lands to private developers while simultaneously providing accommodation for military families in the face of inadequate housing facilities for officers.'
What a tactical blunder on the part of the spokesperson. After his failed efforts to rubbish his seniors, he ended up admitting that the seal has been stamped on aspects of the arrangement already for some military lands to be released to private developers.
Like many dubious arrangements to have happened and still happening under the incumbent managers of the state, especially pertaining to lands in Accra, the explanations so far cannot pass a convincing test.
Even as the original owners of the land are grumbling about the sprucing deal, the military spokesperson in an attack mode proceeded into a potential minefield when he said, 'these are military lands. Why should we negotiate with some people?' He was obviously ignoring the constitutional arrangement which demands that if for any reason a state-acquired land was not going to be used for the purpose for which it was acquired, same must be returned to the original owners.
Beneath this arrangement is spuriousness, which is what has prompted the hue and cry by the retired officers and original owners of land acquired by the state. In a political system fraught with corruption, nepotism and all the attributes of bad governance, the matter under review is not exempt from questions. That is why we agree with those raising the red flag about the sale of military lands.
What are the terms of the arrangements and who are the private developers enjoying this soul-sourcing deals?
We have observed how the filling station craze has also infected some military lands in some parts of Accra. Some of these fuel vending points were alleged to have been constructed by personnel from the Engineer Regiment. Indigenous land owners who sought answers to worrying questions were assaulted for their brusqueness.
We might not know the owners of these business interests but it behooves those behind them to be wary about the suspicions of Ghanaians who are watching the unfolding developments which cannot be devoid of malfeasance.
It would be recalled that a lot of noise was made about the sale of military land by a noisy retired General who now holds a position in the current government.
We wonder whether this person is watching the unfolding developments. Perhaps what was bad then is good now.